Girls' Cross Country Awarded NCS Crown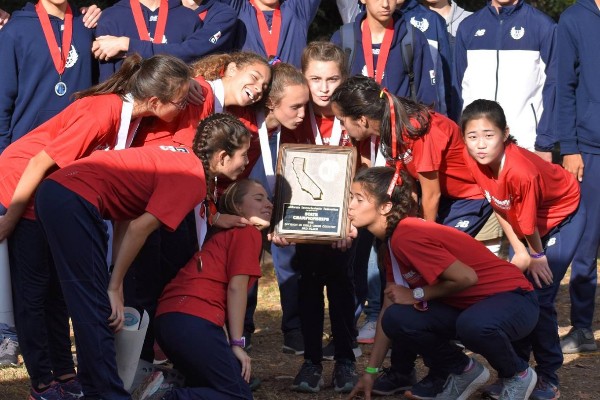 While their NCS race may have been canceled due to poor air quality caused by he Butte County fires, the varsity girls cross country team has been awarded the 2018 division 3 section championship by virtue of its performance at the state championships on November 24.
It is the squad's 6th consecutive NCS title.
The NCS champions were determined by how they compared to other NCS teams in the state championships. Heading into the meet, the girls were ranked 2nd behind division rival Maria Carrillo. At state, Campolindo beat the Pumas by 2 places, finishing 3rd. The next NCS team to finish was Alameda, who finished 7th with 259 points compared to Campo's 167.
"Marilla Carrillo was looking really good so we were really excited about the race, but we thought we could win so when we weren't able to at NCS it was kind of a bummer," said junior Ellie Guthrie. "When we went to state the idea was brought up about winning NCS based on who does the best at state."
"I think we really proved that we were better than all the other NCS teams because we won at State over the other teams by a substantial amount," said junior Alicia Hober.
Sophomore Sophie Webster added that because they beat other NCS teams by several places, she believes they "definitely deserve this."
However, others believe it was unfair to the other teams. "I do think it is slightly unfair because I think the conditions are very different and some people are stronger at the more flat courses like NCS," said Hober.
Hober added that at the beginning of the season there was concern that the Cougars would not even make it to the state meet as they had been beaten soundly by several other NCS teams, including Carondelet. "We were told that this is a rebuilding year and that we wouldn't even get to state and then we go and podium again, which is very rare," said Hober.
The team had lost 4 of its top 5 scorers from last year's state champions to graduation.
"I feel so proud of all the girls. We continued the legacy," said Guthrie