XC Trio Tests Talent at Western Regional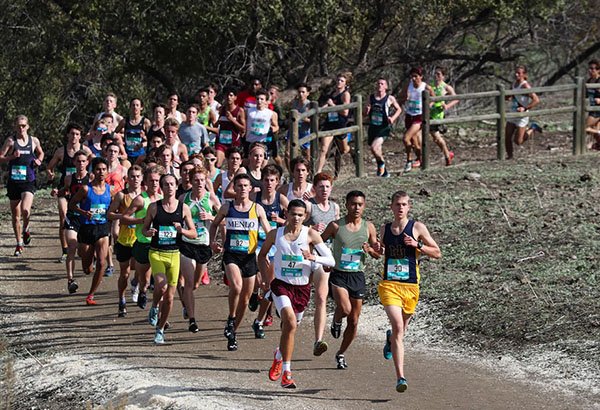 Boys cross country standouts senior Teddy Buckley, junior Cayden Hein, and sophomore Dylan Gunn competed in the Foot Locker West Cross Country Regionals at Mt. San Antonio College in Los Angeles on December 1.
The annual event convenes athletes from 12 different states and U.S. Overseas Military Installations.  The meet includes 17 races in its schedule. In the seeded boys' race and the seeded girls' race, the top 10 finishers move on to compete in the national championships on December 8. Hein and Buckley competed in the seeded boys' race and Gunn competed in the sophomore boys' race.
Gunn enjoyed facing only sophomores after a season on varsity where the standout often faced older competitors. "I liked mixing it up with kids that I don't usually race [with,] and I raced the all-sophomore race, so I got to go head to head with kids that are exclusively my grade, so that was fun," he said.
Gunn placed 7th in 16:38 for the 5 kilometer course. If Gunn had run the same time in the seeded boys' race he would have placed 78th. Gunn plans to compete in the seeded boys' race next year.
While Hein placed 107th in the seeded boys' race with a time of 16:57, Buckley, who was the cross country squad's top finisher at the state championships the preceding week, dropped out.
"I thought the race went well and it was pretty cool because I got to race against all of these other guys from other states who are really talented," said Hein.
Head Coach Tim Hunter believes his athletes have the potential to qualify for nationals next year. "I think they could threaten it. They'd have to have big track seasons to kinda get it there and see throughout the next cross country season. But they definitely have the potential to be there," said Hunter.