Poor AQI Delays Athletic Competition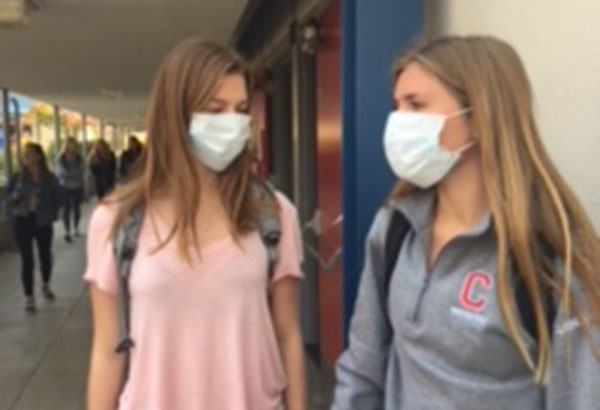 Poor air quality, a result of winds blowing in smoke from the recent wildfires in Butte County that started on November 8, resulted in the cancelation or rescheduling of several North Coast Championship competitions for Cougar sports teams.
The air quality index, or AQI, is a scale that determines the cleanliness of the air in an area and the amount of particulate matter suspended in the ozone. Normally, the AQI of Moraga is quite safe, sitting around 30. At the peak of the smoke solution the AQI  soared to over 150.
"The smoke hurt my throat at the beginning when it was really bad. It was really uncomfortable," said sophomore Jason Wang.
Unfortunately, the air quality caused athletic practices and competitions to be canceled. This delayed some fall-season NCS championship tournament games as well as the start of some winter sports.
Girls' volleyball was supposed to play at home on November 8 against St. Francis High School in the NCS tournament. However, the game was postponed.
Unfortunately, the St. Francis team was already en route from Sacramento when the game was canceled. The Cougars consequently had to play the following day in troubadours' home gym.
Sophomore volleyball player Molly Mitchell thought this was a horrible turn of events for Campo. "[Novemeber 8] was supposed to be our last home game. I'm so sad that our last game was the last time playing in our gym, and we didn't even know it," she said.
According to senior Elizabeth Canon, the Cougars were forced to play in Sacramento because the NCS rules do not allow a team to travel a 2 consecutive days. Canon said, "We had to either drive down there or forfeit. There's no way we were just going to give up so we drove down at lunch on Friday."
The team lost in a 5 set match, marking the end of their 2018 season.
"It was a really good game [at St. Francis] but I wish [the game] still could've been at home. Maybe we would've won," said Mitchell.
Girls' and boys' water polo also faced challenges due to poor air quality.
For almost a week, their practiceswere canceled. The girls' team resorted to watching game film and discussing their plan of attack for the NCS tournament. They also attempted to have an indoor practice at the Olympic Club in San Francisco, but that too was halted due to an air quality index that was close to 200 on November 10.
NCS water polo games were postponed indefinitely.
Sophomore varsity waterpolo player Tallulah Clancy was frustrated with the moving of the game. She said, "We haven't been able to practice lately and it's a verybig game. I hope we can just stay focused and play really well."
Campo football team has also been hit with game postponements and practice cancellations as well. Their NCS game against Ukiah was delayed until Saturday, November 24.