Pullen, Fojut Win Orienteering Race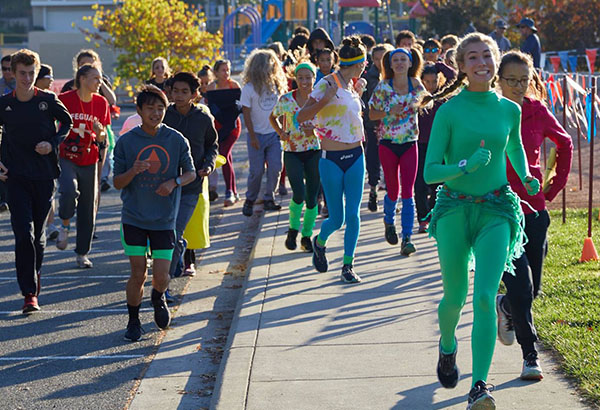 The cross country team held their annual orienteering championships at Hidden Valley Park in Martinez on October 20
Orienteering is a sport that requires both the ability to run fast over varying terrain and read a map.  The race course is not set, but includes check points that a competitor must navigate between in any order.
Each competitor was given a map and check point clues that described the general vicinity of each of the 12 checkpoints. The athletes began using a staggered start, where the slowest members of the team are given an time advantage over the faster athletes.
Athletes competed in 1 of 4 divisions: rookie boys, rookie girls, veteran boys, or veteran girls.
Freshman Rhys Pullen won the rookie boys' division. Freshman Hardy Dolge and Finn Jordan placed 2nd and 3rd, respectively, behind the rookie champion.
Senior Sabrina Fojut won the rookie girls' division while freshman Ally Loyet placed 2nd and junior Anna Simonsen placed 3rd.
Pullen and Fojut were the overall champions for their respective genders as well.
"It was challenging, and I had previous experience from boy scouts on how to read maps, and that sort of stuff, so I think that gave me an advantage," said Pullen.
Junior Brandon Gentry won the veteran boys' division, upsetting the 2016 champion, senior Max Essl, and 2016 rookie boys' winner, junior Sam Morasch.
Senior Bianca Chao won the veterans girls' division, also upsetting defending champion senior Chole Guthrie and 2017 rookie girls' champion junior Alicia Hober. "I really tried to stick with a good strategy of making an efficient route and signing my name off really quickly," said Chao.
Neither Guthrie or Hober earned a top 3 finish. Juniors Ellie Guthrie and Bianca Perrat placed 2nd and 3rd. 
Other awards were the hardcore award, given to the athletes who demonstrate the most effort, and the best costume award.  Sophomores Bradford Martin and Alex Clair both earned the hardcore award for swimming across the lake. The only other person to swim across the lake was overall girls champion Sabrina Fojut.
Senior Adithi Subramaniam and junior Amy Flett won the best costumes with matching ketchup and mustard outfits.