Cheer Camp Strengthens Bonds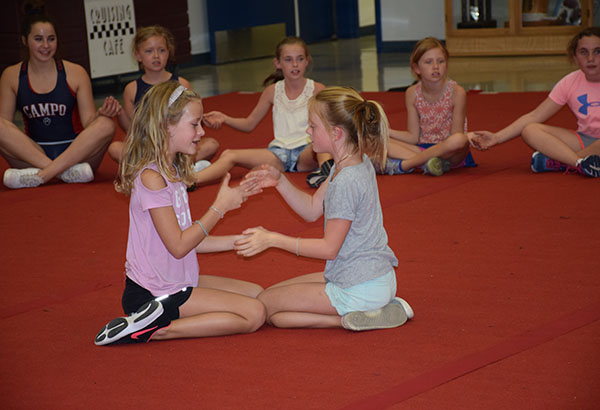 The cheerleaders team taught the youth of Moraga the fundamentals of cheer in a 2-week-long camp, preparing them for a joint performance during halftime of the football game against Acalanes on October 12 and during halftime of the game against Alhambra on September 28.
The camp accommodated all ages, forming "Teams" with 3-6 kids per 3 cheerleaders. This process of grouping was implemented to ensure that each camper learned the skills and choreography effectively.
Varsity cheerleader Devon Ashburn said, "Everyone gets really close with their group and developed strong bonds between one another."
The 1st week of the camp was open to elementary school children, all of which had little to no experience cheerleading. These athletes performed with the varsity squad during the halftime of the football game at Alhambra High School on September 28.
The 2nd week of camp, however, involved kids in middle school who were expected to perform more complex choreography than the younger kids. The middle school athletes performed their routines on October 12 during halftime of the Acalanes home game.
Varsity team captain Danielle Duffy said, "I think it's really fun to see how excited they get about what we teach them and the camp in general. A couple of them will come and cheer with us in games afterward and it is always super adorable."
Varsity cheerleader Hannah Miller attributed the lackluster performance of the elementary school kids to the haphazard structure of the camp. "Although we prepared beforehand, the kids were still confused on what to do. A lot of the older girls also didn't know what was going on because we are usually very disorganized and when you add even more little kids it is very chaotic," said Miller.
Still, according to Duffy, the experience offered another way for the junior varsity and varsity team members to bond.
"It is really fun to teach someone how to do something instead of being told what to do. It helps you learn and understand the topic better because you are helping younger kids get inspired which is really fun. We all come together as a team and become a unit and have a fun experience for the girls," said Duffy.
Miller agreed, and said she views the camp as an opportunity to bring the squad closer together. "The whole experience not only raises money for our team but it also bonds the girls, young and old, together as 1 family," she said.