XC Prepares to Defend 2017 Titles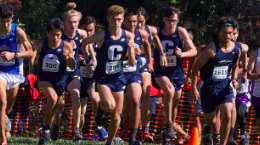 The 2018 cross country team has big shoes to fill.  The boys' varsity squad finished 5th at the state championships while the girls' varsity brought home the state title in 2017.
In addition, Campolindo won all 6 divisions, Frosh-Soph, JV, and varsity girls and boys, at the Diablo Athlete League championships last year.
Sophomore Alex Clare said that he expects the frosh soph boys will excel this year as they "have a lot of depth" and "there are 10 of us who are all pretty solid."
Those that Clare expects to be scorers for the non-varsity squad include several 1st-time runners.
"Marco Chao has shown great potential to be a strong contribution this season as well," said 4-year veteran senior Adithi Subramaniam about one of her freshman teammates.
While Clare is impressed with the depth of the boys' team, he did express concern for the girls' team.  Yet, Subramaniam believes the varsity girls still have "experience and know what it takes to succeed."
In addition to returning varsity veterans Paloma Hancock and Alicia Hober, Subramaniam has high expectations for sophomore Sophie Webster, and freshmen Haelee Chung and Sarah Berten.
Sophomore Dylan Gunn said that the varsity boy's main challengers in the section is Maria Carrillo of Santa Rosa. "I think we can break Maria Carillo if we get everything together and don't get injured. They are supposed to be among the top 3 teams in the state, so if we can take them down we will really be contending for podiuming at the state championships," he said.
Leading the boys' push in 2018 will be top returner Teddy Buckley.  Buckley finished 11th at the state championships in 2017.
According to sophomore Arik Nashan, the season has started slowly for the Cougars as several key runners have experienced injury setbacks. "Some of our top runners for girls and boys varsity are out, and we have some good competition this year, so it could affect the winning streak we have come to expect every year, but I'm sure people will step up and take the place of those that are out."
"A lot of our sophomores became juniors and got faster over the summer, and I think that will transfer to better cross country times," said Gunn.