Girls Water Polo Faces Crushing Defeat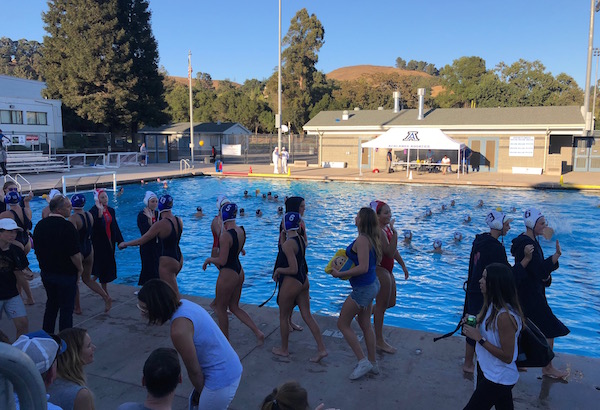 Senior Jessica Henningson was sidelined after sustaining an arm injury on September 19th as Acalanes defeated the varsity girls' water polo team.
"I was at the 2nd post and somebody pulled my arm back and my shoulder dislocated halfway. It didn't come out all the way, so, it should be fine. I'll be back in 7 days," said Henningson.
At the end of a rough 1st period Acalanes held a 4-0 advantage over the visiting Cougars.
Junior Lola Cirulli scored a goal in the 2nd period, followed by goal by Zoe Crouch, leaving the Cougars trailing 6-2 at the half.
In the 3rd period, Campolindo conceded 2 more goals to the Dons.
In the 4th period, senior Christina Crum brought the score up to 8-3 with a 5-meter penalty shot.  That was followed by a goal from freshman Maggie Hawkins with less than a minute remaining.
In the final seconds of the game, Crouch scored on another 5-meter penalty shot to bring the Cougars to within 4 points.
Senior Makenna Ferguson said, "I'm disappointed but I thought we fought really hard. They came out really strong and we had a hard time battling that, but we were able to come back in the 3rd and 4th quarters and ended up making it a close game."
The Cougars will face off against Acalanes for a 2nd time on October 9.