Kansas City Kid Chooses Naval Academy
Senior Nicholas Klock, who moved to Moraga from Kansas City before his junior year, has committed to the Naval Academy, where he hopes to continue playing golf.
Klock started his golf career as an 8-year-old after his grandfather gave him a set of clubs. At 12 years old, he realized he really enjoyed the sport, and decided to pursue it seriously.
When he began playing golf for Campolindo in the spring of his junior year, Klock immediately noticed a difference in the level of competition. "In Kansas City, we had a really good high school team. We won State back to back years. We were great. We didn't have any trouble in competition until we got to State anyway," he explained. "When you come out here and you're playing tournaments all the time during the spring against Division I golfers… They challenge me as much as I challenge them. That's been really great for my game."
Sophomore Hayden Catron has played on the golf team with Klock for the past 2 seasons. "It's been really fun playing with him and seeing his progression throughout the years," said Catron. "Nick is a really good golfer, and he's dedicated to the game. He spends a lot of time practicing, which obviously really pays off for him. I'm excited to see where he goes with Navy because he has a lot of talent."
The opportunity to play golf at the next level is not Klock's primary reason for choosing the Naval Academy. "Serving my country is a big deal, and golf kinda seems little in terms of that whole big picture, but I'm excited for the opportunity and what it will present me in the future," he said.
Although Klock is happy with how it turned out, the recruiting process was not easy for him. "I didn't really know what I was doing. I was trying to contact schools I had heard of, you know, as a kid or on TV, or that I had looked up on the Internet," he explained.
Finally, said Klock, "I started narrowing it down in the middle of last year. I didn't really know kinda halfway through my junior year what I wanted to do, and so I had a conversation with my parents about what I was going to study. So my dad was like, 'You should look at military academies,' and I actually went back home that night and looked up West Point, Annapolis, and the Air Force Academy."
Not only does Klock excel on the green, but in the classroom. Klock agreed to be a peer tutor for history teacher Lisa Herzig's 4th period AP US History course this year and has exceeded her expectations. "I would say that Nicholas has really been valuable to me," said Herzig. "He's creative and has come up with a number of things that have enhanced the learning experience of my students. He's just a really kinda solid individual that I feel like my students in 4th period look up to him and his experience."
"I really almost consider him a student teacher to some extent, as he is that helpful to me. I'm excited for him and I honestly feel he is going to be my politician at some point. I feel like he's got the skill to actually change things for the better in the world," Herzig added.
While Klock is looking forward to his 1st year at the Academy, he knows there are still opportunities to enjoy in his final high school season. "We're excited about this year. I wanna say we have 6 guys just because that's varsity, but honestly, we have 8 or 9 guys that could go out and compete on a big-time scale, and I'm really excited about that. We're deep, and we're ready to come and play and I have high hopes."
About the Writer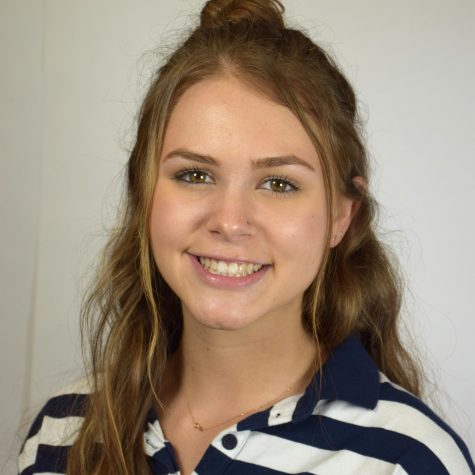 Layla Wright, Visual Media Editor
Layla Wright, senior at Campolindo, is the Visual Media editor on the 2018-2019 La Puma staff.

Wright has been dancing since she was 4 years old, and...