Girls' LAX Falls in Finale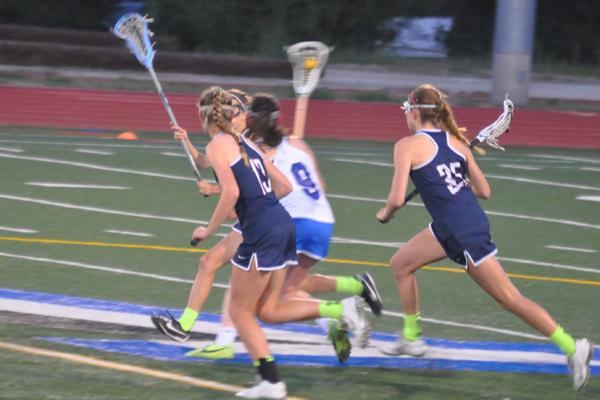 Girls' lacrosse lost to Acalanes 13-8 on May 8. Held at Acalanes, the game was a tough way to finish off what has been the Cougars' best season in program history.
Acalanes is a tough environment for the Dons' opponents. The home side of the bleachers were filled with blue and white clothed fans.  Attendance was high as the home squad recognized each of its senior players prior to the start of play.
According to Senior Mary Hildeburn, senior night is typically held at a team's final home game of the regular season. "We had a senior night on Tuesday before we played Dougherty Valley, which is the game that got us the most wins in [school] history."
The Cougars started well, holding the Dons scoreless through the opening stages.  At the seven minute mark, junior Sophie Hubbel scored the first goal for Campolindo.
Shortly thereafter, Acalanes' Caith Wright scored, and thus began a long stretch of offensive possession for the Dons. The Cougars were forced to focus on defending rather than scoring.
In spite of brief flurries of offensive attack from Hildeburn, Campolindo could not find the net. Goals ensued from Acalanes players senior Sophie Ross, Caroline Newman, and game standout, Wright.
Acalanes scored again with a shot by senior Ellie Higgins.
Kate Cimino finally managed to increase the score for Campolindo, but it was countered almost immediately.
Hildeburn explained, "Our transitions and our clears did not go very well. We could definitely work on that going into our next NCS game against Miramonte, for Friday. But our defense played very very well and shut down some of their best attack players."
Nearing the end of play the Cougars picked up 2 more scores, one by Hildeburn and another by sophomore Rebecca Hull.
After the game Hildeburn was still positive about the team's season. "It gives the younger players a sense of confidence that the program is definitely heading in a positive direction. It gets people excited about playing lacrosse in the future," she said.