Ivy-Bound Wirth Boasts Balanced Attack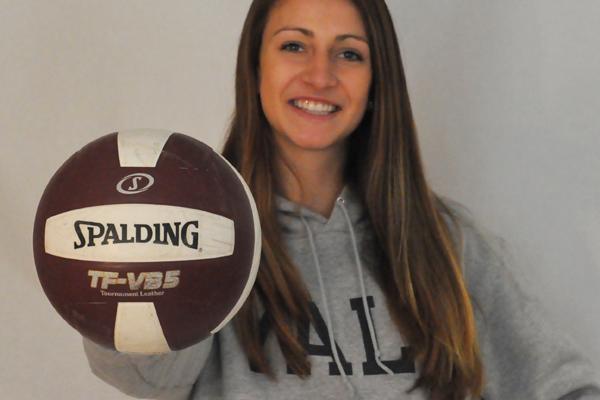 Varsity volleyball captain and track star Kelley Wirth will trade her Cougar spirit for Yale pride next year.
For volleyball, Wirth has committed t0 the New Haven Ivy league University, which was ranked as US News and World Report's third best school in the country in 2014.
Wirth will graduate high school this year with numerous academic and athletic honors. She has been named NCS [North Coast Section] Volleyball Player of the Year for 2 consecutive years (2013 and 2014), and is a 4-time California Scholar Athlete Award Recipient. She has also won Honorable Mention as an Academic All-American and boasts a 3.95 GPA as well as a 1900 SAT score. Wirth is ranked, as a player, 33rd in California and 173rd nationally for volleyball.
Not only did Wirth receive recruiting letters from Yale, but many other schools reached out to her, including UC Davis, Cal Poly, St. Mary's, Santa Clara, UConn, Duke, Harvard and Princeton.
"Harvard, Princeton, and Yale were my top three [colleges]. I was looking at a bunch of schools on the West Coast and East Coast, and I started looking at the Ivies because the balance between social life, academics, and athletics is more balanced than other D1 [Division I] schools," Wirth explained.
"I was looking [at Cal Poly], where I'd be more of an athlete-student, versus at Yale, where I'm going to be more of a student-athlete. The balance for me is a lot more appealing there," Wirth said of her East Coast college choice.
According to San Jose Mercury News's letter of intent listings, Wirth is noted as 1 of 4 Campolindo seniors who have committed to Ivy League schools. The others include Ben Skinner (Harvard baseball), Brighie Leach (Princeton track and cross country), and Mary Ashby (Columbia swimming).
Wirth's volleyball teammate, freshman Cameron Blakeley, explained that Wirth's dedication to both her academic and athletic career is what earned her success. Blakeley said, "Kelley is very smart and she's very talented at volleyball. She's really passionate about the sport. Throughout the season, she was a really good captain. She gave inspiring speeches, and she always picked us up when we were down. She was always one of the hardest working players out there."
Women's varsity volleyball coach David Chen said, "She's positive and good to her teammates. She's good at understanding how to maintain a high level of play, high energy level. She was a good captain [and] she played the role the team needed at that moment in time."
Wirth, who is exactly 6 feet tall, saw her success in volleyball as something which she could apply to another sport. She joined the track and field team her sophomore year, and returned to it again this year, to participate in the high jump event. Wirth said she joined the team in an effort to "break the school record."
Break it she did: in her first meet of the season, Wirth broke Hadley Swanson's 2011 school record of 5 feet and 4 inches. Wirth jumped an astounding 5 feet and 5 and a half inches.
Track and field head coach Chuck Woolridge explained, "Kelley distinguished herself sophomore year by being the top rookie at our annual event testing where she had to compete in the long jump, the shot put, the 300 meter sprint and the 1200 meter run. With her combined results she was the top rookie performer that year so that made it pretty obvious that she was a special athlete."
"She did not compete for us as a junior but returned as a senior and with the athleticism that she's obviously developed through her volleyball training she's suited to be a great high jumper. That was pretty obvious when she broke the school record in her first competition of the year," Woolridge said.
Sophomore Juliet Arnswald, who also participates in the high jump, said, "I'm really glad that I get to work with her in high jump, because she pushes me to do better. Her coming to high jump with us has had a huge impact on the team."
Wirth explained the differences between volleyball and track and field. She said, "Volleyball's a team sport, so I've had to learn how to rely on my teammates. [For example,]  if my teammate makes a mistake, it affects our entire team; our results and everything. For track, obviously I'm not an expert on track and how it works. It's a team event in the end, with the team score, but for high jump, I am individually trying to get my highest jump. So, it's different coming from a team sport to switch to just to thinking about myself."
For many students, finding a balance between sports and school is a challenge. However, Wirth, while noting the difficulty of managing both, explained that the structure athletics gave to her schedule forced her to exercise better time-management.
"Campo's a really academically vigorous school and at times, it's hard just with the amount of work that we're given," Wirth said, "but having practice almost every day and having to manage my time has made me more productive. When I have a break and don't have practice, I actually procrastinate more. I think staying in a sport helped me stay on task."
While students at top schools include overachievers such as Intel Science Award winners and published teen authors, Wirth argued that athletes deserve just as much recognition for their athletic achievements.
Wirth said, "I've met people who got accepted to Yale. We had a little get-together, and I remember telling them 'So, that's so impressive you got into Yale just because you're really smart. You must be a genius. You've been doing all this extracurricular stuff, [and] that's really cool.' They were like, 'No, you can play volleyball, and you're smart. That's crazy that you can balance that and still get good grades.'"
"I think that a lot of people who get accepted just for academics look at athletes and they say, wow, they can be really good at their sport and be really smart. It's more impressive," she added.
Blakely agreed. "There are a lot of people who are smart and athletic. Kelley is a prime example. I know Kelley was NCS Player of the Year, and that's a big deal. She got that her junior and her senior year. That's unheard of to get it [the award] two years in a row."
"For her to be able to balance volleyball and school is impressive. If you have both of those skills, you should use them as advantages for college acceptance. A lot of kids do that now. You wanna [sic] use as many positive qualities as you have," Blakely said.
One thing is sure about Wirth's acceptance, it was earned with years of hard work. She said, "I've always worked hard in school and in my family, my parent's expect us to work really hard. I think my grades helped with my acceptance. It's hard for Ivies to recruit because they are looking for good athletes who also have good grades."
Blakely explained that Wirth deserves a spot at a top school as much as anyone. She said, "When I first got to know her I knew she was really smart. Yale's a top Ivy League school so it just symbolizes that she's very hard working, she's driven and how she will achieve what she wants."
Woolridge explained Wirth as having "learned what it takes to be successful." He said, "She's very driven, she knows how to set goals and stay focused in competition."
Erin Appleman, Yale's volleyball coach, sees Wirth as a huge asset to their team. In a recent post where she announced the team of 2019, Appleman said, "Kelley can be a game-changer on the outside for us. She's used to being a go-to player and hits with authority."
Chen said, "Kelley's been a hard worker over the past few years. She's been playing different positions based on what the team needs. Having to play different positions makes her very flexible. She's a player who can do whatever the team needs as a role player or a starter. That'll be helpful with whatever the next coach in the next program needs from her."