Basketball Dunks Albany, Heads to O'Dowd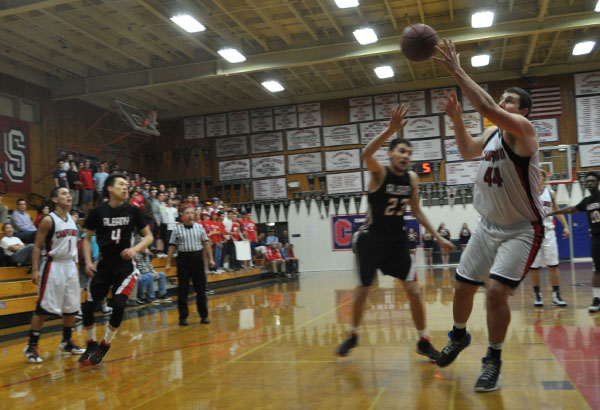 Despite a low-scoring 1st half, boys' basketball defeated Albany 65-50 in the North Coast Section [NCS] playoff game at home on February 27.
According to head coach Matt Watson, offensive turnovers were the reason for the lack of scoring. "Basically, we were our own worst enemy. We turned the ball over 17 times in the 1st half. That is not what we do. So, that it why we had 29 points. Normally, we have 5 or 6 turnovers in that span. We shoot over 50%, which equates to around 45 points, which we should have had," he said.
The Cougars managed to score 36 points in the 2nd half, and 65 for the full game.
According to junior Austin Clarke, the key was scoring inside the paint. "We just looked to go inside. No one really shot that well, and we thought that going inside the paint would be our best option, so we kept doing that," he said.
Junior Will Hicks said their energy in the 2nd half played a role in the win. "I think that we came out with a lot more energy. I think our bench helped out a lot, especially with every shot that we made. They really brought the energy, and I think we did a good job on the defense, from Chris Hansen to Austin Clarke getting a lot of rebounds, I think we took very good care of the ball," he said.
"We just came out with more energy than they did. They were a pretty tough team. They shot the ball really well. We played good defense, but they just knocked down their shots. In the long run, we were fitter, and got down the court, and finished our layups," he said.
The Cougars limited Albany to 29 points in the 2nd half.
Albany coach Bill Treseler believes that his team is improving, and showing resilience in spite of the loss. "Last year, we came over here and lost by 40 points. For them to believe that they had a chance to do something here is remarkable. They have a lot of faith in each other, and they work hard. They buy in what we are trying to do, and it is a really fun team. They have a lot of intangibles," he said.
With the win, Campolindo will play Bishop O'Dowd, which according to MaxPreps, is ranked 21st in the nation, in the next round.
According to Watson, defeating Bishop O'Dowd may be a challenge, but it is not impossible. "It is going to be a tough one. Obviously, we are going in as the underdog, and nobody expects anything out of us. It is going to be fun for us to play a nationally ranked team, and to see if we can knock them off," he said.
Clarke said that playing Bishop O'Dowd is just another game. "They [Bishop O'Dowd] have some big names, but they are just high school kids like we are. We will just approach it like every other game. We might look at a few players a bit more seriously than the others, but it is just one more game for us," he said.