Late Rally Falls Short against Livermore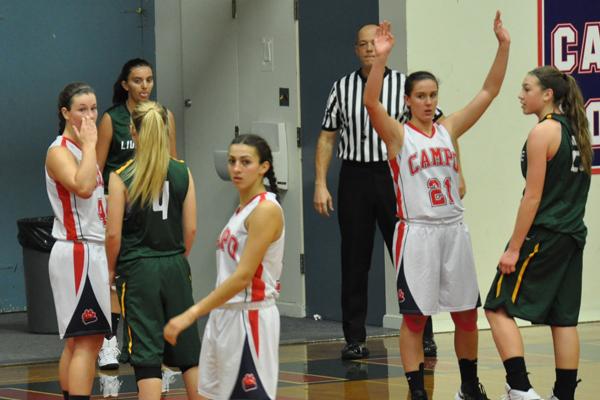 Katy Ly, Staff Writer
December 11, 2014
Girls' varsity basketball fell to Livermore at home on December 4, The 57-49 loss was the team's 2nd game of the new season.
"There were times we played well, and times we could have played better,"said head coach Art Thoms.
After senior varsity player Julie Meng opened the evening by singing the national anthem, Campolindo got off to a rough start as Livermore took an early lead, 18-9. By halftime, Livermore led 34-25.
"I think we came back really well during the second quarter," said Thoms. His team scored 24 points in the second half.
However, Livermore continued to roll.  "[Livermore] pressured a lot. It took a while to gain our composure," said Thoms.
The Cougars rallied, making several baskets during the final minutes, but could not overcome the lead they afforded Livermore in the early stages of the contest.
"We can't take every game lightly," explained junior player Emily Lyall, who leads the squad in rebounding.  "[It's] just that they're really good shooters. They really get there, and fight for the rebound," she added.
According to Thoms, they expected the intensity from Livermore having played them last season. "Last year was very tough," said Thoms. "We knew it was a tough game today."
Nonetheless, Thoms believed his team played well. He notes some of their best moments were drives to the basket, as well as good passing. "We have ten players that can play," Thoms said. "We really play more as a team."
Campolindo is currently ranked #18 in the North Coast Section.