Academy System Pulls Talent from School Teams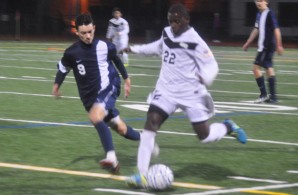 Several veteran Cougar soccer players plan to skip next year's high school season to play for the DeAnza Force Soccer Club. The choice of these athletes to prioritize club participation, and additional players considering the same, the legacy of boys' soccer dominance at Campolindo appears to be in jeopardy.
In the past, clubs have allowed players to continue playing for their high school team by taking a winter season break, but the new academy model used by the DeAnza Force and other clubs no longer provides such an accommodation.
Coach Shane Carney, who has guided Campolindo's recent soccer domination in the North Coast Section, said, "Although I understand the benefits, I think it's tough for anyone to pass up the high school soccer experience."
Nevertheless, players appear eager to join these Academy programs, believing they are more prestigious than high school teams.

Junior Preston Kilwein, who earned All-League distinction as a Campolindo player, tried out for the new academy. According to Kilwein, it is difficult to secure a spot. "You go to a practice and the coach evaluates you," he said.
Kilwein hopes to play soccer for San Diego State University, and believes that DeAnza Force is his best bet for being recruited. "It's better competition, and it's easier to get recruited for a school. They have the most people committed to playing college," he explained.
However, Carney believes that, although playing for an academy team does guarantee more consideration by colleges, it does not automatically result in one being recruited. "Recruiting is a really weird world, where some of the best players can get overlooked and others who aren't very strong get noticed. It really comes down to how you play when the colleges are there watching," he said.
"It's in my best interest to go to college, but it's hard not to play with my friends," Kilwein said.
Junior Ryan Donat, the high school league MVP, will also forgo his final season at Campolindo. "It sucks, not being able to play for high school. It will be hard because it's fun to play with your friends and play for your school," he said.
"It's in the best interest for me and the future," Donat added.
Junior Seth Kofman has been contemplating the pros and cons of moving to the academy for years. "It gives you more exposure to the college coaches if you want to play in college, and it really helps with the recruiting process," he said.
Students are also able to recieve financial aid from the academy.
Kofman has decided to continue playing for Campolindo, in hopes of winning another NCS title. "I get to play for the school and play with my teammates that are still on the team," he said.
Kofman also believes the long drive to practices in Cupertino for the club program would be a logistical issue. "I just felt like I wanted to focus on academics," he explained.
Kofman believes he has a good chance of being recruited staying with the Campolindo squad, and has already spoken with some college coaches.
Donat played center back for Campolindo, and Kilwein played left wing, right wing, center back, and left back. With the 2 juniors leaving and 16 seniors departing for college, future success of the program is in question. "They're losing a lot of guys, between me and Preston leaving and the seniors leaving, so I don't know, hopefully they're still good," Donat said.
"I think they'll be okay, since there are a lot of returning juniors. I don't think they're going to have that hard of a time," Kilwien said.
Carney is confident that his team will still be one of the top teams in the area. "I've got some awesome players coming back who will be our leaders, along with some young players who I expect to develop into key players next season," he said.
"It will be a young team, and I think we'll suprise a lot of people," Kofman said.
Although Carney is disappointed by the loss of two star players, he stands by their decisions. "I will support any of my players in whatever they feel is the right decision for them, even if that does mean they won't be playing for me anymore," he said. "There are positives and negatives to both situations, so hopefully the positives of moving to academy are worth the transition."