Clovis Highlights Orinda Aquatics' Season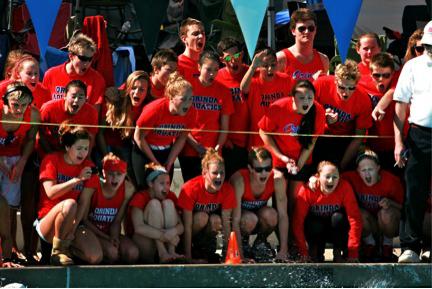 62 Orinda Aquatics swimmers loaded a bus for a long 4-hour drive to Clovis, California, for a weekend filled with bonding and best times. The group departed at t 11:15 on Thursday, March 1.
Several swimmers made sectional and junior national qualifying cuts, and almost all improved their times significantly.
For many, including sophomore Anya Nugent, Clovis is their favorite meet of the year. For her, Clovis is "a time for swimmers to get to know their teammates more and also a great time to become a better swimmer…it's one of the best swimming experiences I've had, and I love it."
The team's goal for the meet was to live out its motto of "Character First," setting the standard as far as maturity, attitude, and leadership. That, for the coaches, is vastly more important than the times on the result board.
Orinda Aquatics Co-Head Coach Ronnie Heidary was pleased with the way swimmers performed, in and out of the pool. "I think for the most part the team did as well as we'd hoped." Heidary said, "We swam really well as a team…but more importantly the kids behaved impeccably and showed that teenagers can be mature and do the right thing and have a good time…it was really just a flawless trip."
As Team Captain Steven Stumph put it, while Clovis is "a fun meet where the entire Senior Group gets to bond…it's not only a fun meet, it's also a serious meet."