Presten Rises above Wave of Polo Talent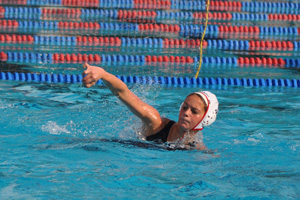 Freshman, Brooke Presten was a standout player this season in girls' water polo. As a main offensive attacker for the Cougars, Presten was a top scorer in many of their games. She was a key component to Campolindo's success this season after scoring a season high 3 goals in their matches against both Las Lomas and Acalanes.
Presten said she was accepted with open arms by the upper class members on the team. Senior captain Gracie Fowler said she "is really proud of Brooke." Fowler also said Presten has "come really far from the beginning of the season."
Presten also thinks her coach, Kim Everest, helped create a unified team through team bonding activities. These activities allowed Presten and her teammates to learn to trust each other outside the water, which then led them to have better team chemistry inside the pool.
Presten was one of three freshmen on the varsity team this year. Madison Tagg was the back-up goalie and Hannah Buck was the back-up center. Buck said "Its been great seeing [Brooke] become such a better defender and shooter."
Presten's parents have helped to encourage her by trying to go to as many games as they can to cheer her on. They also get her the best training possible so she can improve.
Presten has been playing on the Diablo Water Polo club team since fourth grade. She is also a member of the Olympic development program.  This prior experience helped Presten adjust more easily to high school water polo.