ASB Election Candidate Statements
Student body elections are coming up, with students voting for candidates during the 5th period class on March 10. These elections will determine who will hold the four Associated Student Body (ASB) positions for the 2023-24 school year. Three out of the four positions are unopposed, with the position of treasurer having three potential candidates.
Each candidate made a statement to The Claw about their experience, plans and aspirations for Campolindo, as stated below.
ASB PRESIDENT (Unopposed):
Junior Riley Regan: "I'm excited to be ASB president and I hope to make everyone get involved on campus however they can. And I want to just build the Campo community and have everyone feel like they belong here. And I just want to promote every school event, whether it's sports or performing arts, like I want to get people to go to the drama showcases and just make everyone feel like they belong and promote clubs even more so than like they are being promoted this year. I really want to spread school spirit… I really want to have more and more weekly events going on, different things and bring some new initiatives to Campo as well."
ASB VICE-PRESIDENT (Unopposed):
Junior Michael Chu: "I'm really excited to be ASB Vice-President next year. I'm looking to make the school more inclusive, but also, I want to make sure we have a ton of fun next year, stuff like school rallies, school dances. And I also want to make sure that we become more transparent as I know a lot of people who, they're not interested in doing Leadership, but they still want to be involved, but also they want to know just how the Leadership process works here, similar to how we learn about how the US government works. I think more people should know how our Leadership class works."
ASB TREASURER:
Sophomore Emory Hsaio: "If I were to become ASB Treasurer, my plan is to grow our budget to the highest it's ever been. I'm hoping to host various fundraisers other than the canned food drive to help achieve this goal. I am very responsible and would always check that all of our various extracurriculars are getting adequate funding and support they need."
Junior Brandon Lorie: "I think the main duties are establishing the budget right now, but I think [a] goal of mine this year would be to work hand-in-hand with the Contra Costa County Food Bank to better the year's annual canned food drive. In my sophomore year, we had a really good turnout, and it really dropped off this year, which is really disappointing. I think we'd like to incentivize [students] to do a better job between all groups and I think it'd be really good because we're helping people in need. And I think that's something that we can always do every day, if we can better not only ourselves, but other people. I think it's a great thing to live by. Especially with the new programs that [Vice Principal Vanessa] Knight is implementing for those students who are looking at participating in extracurriculars, I think that'll be something that'll go into play next year, and I'd like to have my hand in that and help as many people as possible."
Junior Zoe Seaman: "As a qualified candidate being class of 2024 treasurer two years in a row and treasurer of other clubs like Woman's Awareness On Campus and 10,000 lunches, I have experienced lots of different facets of the financial system. I've worked with three different financial advisors. I have gotten a lot of experience in doing various stuff like the cashbox request forms,…purchase orders and more. I'd like to create some transparency about how our [financial] system works in a lot of clubs. Sometimes [students will] apply for grants and get them, that [can be] a confusing thing, so just being more open about that. And especially for the class [budgets], maintaining those budgets, because after COVID [the budgets are] a little messy and just trying to get them back on track."
ASB SECRETARY (Unopposed):
Junior Maddie Soun: "I thought that the ASB Secretary should be outgoing, hardworking and spirited. And I feel like I have all those attributes. Some previous work I've done is the board commissioner of media where I helped run the Campol Red C [Instagram page] and created the Campo Clubs website, and then I work as a social media manager for the Diablo Valley Youth and Government. I want to have this whole and welcoming and inclusive school. I feel like some things in Leadership can help contribute to the entire student body."
Leave a Comment
Your donation will support the student journalists of Campolindo High School's The Claw. Your contribution will allow us to produce more issues and cover our annual website hosting costs.
About the Writer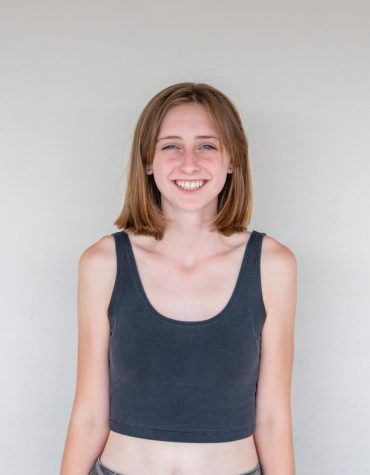 Maggie Doolittle (she/her), Editor-in-Chief
Senior Maggie Doolittle has been a Girl Scout since kindergarten, racking up a total of 11 years in her troop. "I have continued [Girl Scouts] because...