Campo's Spring Musical Returns with "Cinderella"
Campolindo's annual spring musical performance debuted Roger's and Hammerstein's Cinderella on March 11. Rehearsing since January, the choir students participating have worked for months to produce the production. Cinderella showcased 2 casts, Twaddle and Poppycock, with 8 performances total.
It had been 2 years since Campo's musical had performed, with the 2020 production Titanic being canceled in the middle of the show's run due to COVID-19, and the 2021 show not being possible due to the virus's restrictions. For most students, this was their 1st time performing on stage in 2 years.
Senior Zenaida Chapman starred as Marie, the Fairy Godmother. "I was really proud of our community for coming back together after 2 entire years off. The strength and the support for the program was just as strong as before, if not stronger, so I felt really good being supported," Chapman said.
In order to ensure that the casts stayed safe without masks, performers were tested weekly for COVID-19.
Junior Mira Shah, a dancer in the musical, said, "It was really cool to perform and since it's been so long. I think there's something really powerful about actually connecting with the audience through facial emotion." Aside from being able to perform for a live audience, performers were able to utilize emotion without masks on.
Chapman said performing in front of a live audience after so long was a very emotional experience. "It was honestly surreal…being able to see people in the audience [and] being in front of an audience…you get so much energy [which] added to the magic of the show."
Shah agreed, adding that "the direct exchange of energy that you get when you have a live audience is unmatched."
Senior Lleyton Allen, who performed as Prince Topher, said having a live audience made the cast realize how "people are appreciating what we're doing. Especially to have them clap on moments we didn't know they were gonna clap, or to have them laugh at jokes we didn't even know were jokes; [it] just makes us feel a lot better."
Allen added that not having masks allowed the actors to express more: "A lot of acting is in the face as well as body movement."
Many memorable moments happened during the musical for the performers, both on and off the stage. "My bow during the Saturday night show was amazing. I came down the stairs and everyone was just clapping so hard and I [realized how much] I missed this and just performing in front of people," said Chapman.
Allen said his favorite scene is the pursuit, where Prince Topher runs around trying to find Cinderella, allowing him to interact with the audience. "I get to run through the audience and put the light in people's faces. I get to see people actually react to me and it's pretty cool," said Allen.
Some of Shah's favorite moments took place backstage, away from the lights. "There's so much bonding that has happened this year. I feel like this is the most tight-knit ensemble we've ever had," Shah added.
Audience member freshman Sofia Spiropulo said she enjoyed watching "the singing and all the characters. It was really fun to watch and [see] my friends."
Shah added, "I really miss seeing my peers perform. I loved watching [junior Stephanie Moore as] Cinderella. I find so much joy in watching other people perform [since] it's been a while since I've gotten to see my peers…sing and dance and be on stage."
Sophomore Charlotte Eirich, who performed as Gabrielle, said the musical has been "a really gratifying experience and it was really an awesome thing to be part of."
Allen agreed that the musical is a very special experience to take part in: "The family-feel that comes with the musical, with the tech, and the crew, and directors, [and] performers, just everyone comes together. It's legit a family."
Leave a Comment
Your donation will support the student journalists of Campolindo High School's The Claw. Your contribution will allow us to produce more issues and cover our annual website hosting costs.
About the Contributors
Claire Birdsey (she/her), Staff Writer
When she was 4 years old, Claire Birdsey was enrolled in her first dance class and has been hooked ever since. Dancing at CAPA in Moraga since 2017, she...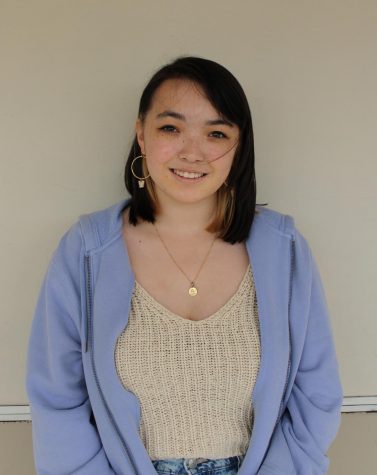 Grace Kelly, Lead Videographer
Senior Grace Kelly's passion for film led her to join The Claw art department. Kelly said, "Since I like making documentaries, journalism will definitely...