District Provides Free Lunches to Students
As students returned to campus for the 1st time in over a year this past week, Campolindo's food service department began offering its free lunch program, allowing all students to receive a lunch from the cafeteria free of charge.
The lunch program currently being offered is called the "Seamless Summer Option."
Food Service Lead Steven Nelsen said, "When the pandemic hit in March the USDA [United States Department of Agriculture] quickly pivoted and made this program nationwide to all districts in the U.S. The program is being funded by the USDA and the district receives reimbursements for each meal. The goal for the food service department is to make sure any child who needs a meal in the Acalanes district boundaries gets what they need and not go hungry."
"Since March 18th of last year the community has gotten 120,000 meals just from Campo, not to mention the other 3 schools in the district," added Nelsen.
In addition to lunch services, the cafeteria is also open for free breakfast each morning at 8:00.
Junior Class Vice President Alexis Doyle, who helped the administration with advertising the program as a part of Leadership, recognizes the value this program has to offer. "I think with so many people being put out of work, busy beyond belief, and having so much else on their plates, free lunches can do so much for our community. It's easy and free to pick it up, therefore saving time and money, both of which are valuable commodities during this time," said Doyle.
As of right now, Nelsen reported that the cafeteria's menu is going to be limited as students return to campus.
Nelsen said, "The menu right now is a combo of items from years past and a few new items as well. Right now with all the schools running the same program it's difficult to receive everything we need to keep the menu the same as before, so look out for some new items."
Senior Katie Strohmeyer, who received lunch from the cafeteria for the 1st time on March 16, said that students were offered a chicken sandwich with cheese and choice of their side and drink.
While students may not have access to the vast variety of food choices they have in years past, the program has been well-received thus far. "I think it's a really great option for everyone because it's much easier not to have to pack your own lunch and have it sit in your backpack [or] locker all day, not to mention that it's free," said Strohmeyer.
Nelsen noted that the menu will hopefully begin to "open up after spring break, but we just don't know. In a regular year we start narrowing down the menu as we get closer to the end of school anyways."
Because the transition to hybrid has just commenced, Nelsen reported that the lunch service has been slower than expected.
Nelsen said, "Tuesday was our 1st service with the kids and it was a little bit slower than I expected, but all of you haven't been on campus with friends for a year. So I understand lunch isn't the first thing on your mind, but do remember all meals are free this year."
For students interested in picking up lunch from the cafeteria, the process is as simple as providing your ID at the window or ordering ahead of time online. "I haven't gotten a free lunch yet, but I have been present when others have. I'm pretty sure all the students need to do is scan their ID cards or recite their ID numbers at the order window to order their free lunches," said Doyle.
Leave a Comment
Your donation will support the student journalists of Campolindo High School's The Claw. Your contribution will allow us to produce more issues and cover our annual website hosting costs.
About the Contributor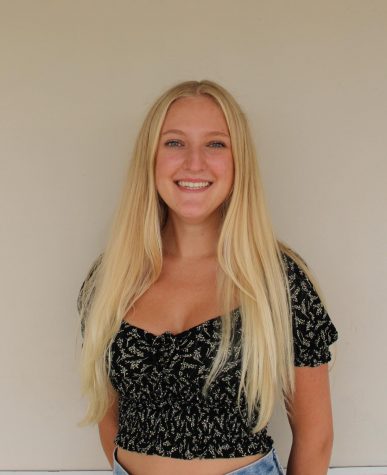 Jensen Rasmussen, Editor-in-Chief
Senior Jensen Rasmussen has been passionate about ballet since a young age, training and cultivating her love of dance throughout her high school career....