Campo Alum Joins Equity Meeting to Share Experience
The Campo Equity Committee highlighted Campo alum and Hollywood actor Stephen Bishop who joined the Campus Culture group as a guest speaker to discuss his growth as an actor and activist on February 22.
Bishop is most well known for his role as David Justice in the 2011 film Moneyball, and has also made appearances on TV shows including Imposters and Criminal Minds.
Bishop was invited by English teacher and leader of the Campus Culture group Jamie Donohoe, who attended Campo alongside Bishop. "We got to know each other playing sports together…and just messing around in the quad, going to parties together. We grew up together. He was just that rambunctious kid who was always just goofing around and having fun, he's just this great guy," said Donohoe.
"I had some issues when I first got to Campo, you know I'm young, I'm one of the only black kids at the school… I dealt with some new kid things. Junior and senior year for sure it started to become a little more effortless because I was established at the school, I was an athlete and I had the group of guys who were all the top athletes and we were just running through the school together, and I could kind of take cover in my group," said Bishop of his time at Campo
As a highschool student, Bishop became a proficient varsity athlete and went on to play baseball for UC Riverside, a background that influences his acting career today as Bishop said he, "treat[s] acting like a sport," in the way he prepares for his roles and takes care of himself while on set.
Bishop, later on, began a career in minor league baseball, which he said allowed him to travel and meet many different kinds of people and revealed to him the deep poverty that still exists in parts of the country. "Seeing all of these things that a lot of people don't get to actually witness made me very empathetic and very in tune with my blessings and also with my desire to want everybody to be able to live the positive American experience," said Bishop.
"I do use my platform to speak for people who don't have a voice, speak for people who don't speak for themselves. I'm very big on equity and justice, fairness, and everybody having the same opportunity and respect for each other that they should have," said Bishop, who is now particularly vocal on Facebook, not just with promoting his acting gigs but speaking out on racial injustice.
"I've lived it, I've been on the lower end of the totem pole, the pecking order, and then on the upper end where I can see it from both perspectives. And I think that's what a lot of life is about is having perspective and your life experience where you can see things from a lot of different angles," said Bishop.
"The way that he broke down prejudice, discrimination, and racism I thought was really helpful, and I wish we had done that at the start of the year to have those terms set," said Donohoe. "I also loved talking about white privilege and how there's no need to be ashamed…it's just a fact, there's no guilt around it. I, as a white man, have white privilege, it's not necessarily something to feel guilty about it's just a fact."
Bishop also discussed the spectrum of "racists, non-racists, and anti-racists" in that racists are the active perpetrators, anti-racists work against hate, while non-racists tend to stay silent about racial issues.
"I've recently come to see that too like in the past year and a half, it's not enough for me to just sit back and teach and not be a racist, I have to act and use my voice and use my privilege as a white man to speak up and reach out and act. Activism is just taking an act, it's doing something, and I think if more people can get towards that in being active and actually using their voice I think we'd be in a better place," said Donohoe.
According to Donohoe, Bishop drew the highest turnout for an equity committee meeting so far with 80 participants, including both students and faculty. However, Donohoe believes, "that's cool but that's still not enough. I mean 80 out of all the teachers and students [at Campo], that's still not enough to really make the change that we need to make. So those 80 folks need to go grab 5 other people and say hey you know we're gonna go do this. If that happened the culture here would change."
"Campo can be a good place, but it has to do a better job of preventing racial aggressions to begin with," said senior Katie Strohmeyer of what she took away from Bishop's talk.
Strohmeyer is part of the Athletics group, and said, "It's been pretty good to kind of hear updates about what's going on and I think it's good Mr. [Ray] meadows to know our feedback on different things so that the athletics program can better serve all of the student-athletes."
"It's pretty awesome that even in this pandemic and this switch to hybrid that so many people are still carving out the time to show up and continue to work, and that we're making it a priority, that it's a 'have to,'" said Donohoe. "Like there lots of noise out there, in some ways, we as teachers and students have never been more crazily busy but we're still carving out the time and saying this is a must and I find that pretty inspiring."
Leave a Comment
Your donation will support the student journalists of Campolindo High School's The Claw. Your contribution will allow us to produce more issues and cover our annual website hosting costs.
About the Contributors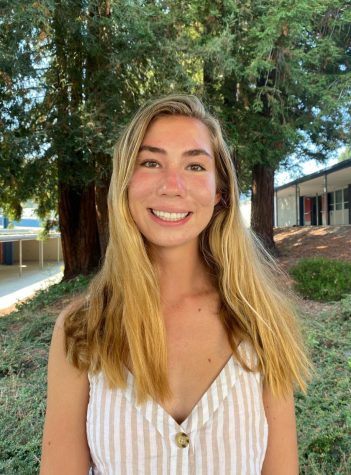 Gracie Woidat, News Editor
Senior Gracie Woidat has a passion for both working and caring for people and animals. She has found her calling by volunteering at the Lawrence Hall of...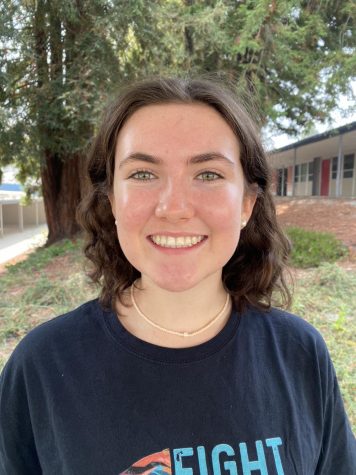 Caroline Fitzpatrick, Photographer
Junior Caroline Fitzpatrick has always loved art and photography. She uses her film camera to capture moments whether she's traveling on vacation or exploring...