Need for Canned Food Increases During Pandemic
Despite not being able to collect donations in person, the Leadership class is hosting its annual canned food drive for the Contra Costa Food Bank. Donations will be received through on-campus donation bins and a virtual team page through December 11.
Traditionally, right before the holiday season, there is a friendly competition between 5th-period classes as a way to motivate students to donate canned food and money for the food bank. Although being online and doing distance learning makes this much more difficult, that doesn't mean that the need for donations is any less prevalent.
The Contra Costa food bank has reported that there is a 40% increase in the demand for food assistance this year. This means that the regularly collected average of 13,000 to 15,000 of canned food needs to be substantially raised. Although canned foods are available to be donated up until Friday 12/11, so far over $7,000 worth of food (or about 21,000 cans) have been donated.
"There is still about a week left to donate so at this point we are very happy with how much money has been raised, especially since it's harder to remind students to donate this year," said ASB President senior Sophie Webster.
Still, Leadership advisor Lindsay Webb-Peploe encourages Campolindo students to donate even just a small amount to help reach the overall goal. "We would like to keep our commitment to the Food Bank. What does that amount to? $10 bucks per student at Campo would get us to our goal," she said.
Donating is as easy as just driving to Campolindo and dropping off your bag of canned food at the designated drop off bins on campus.
"I think that participating in the Canned Food drive is incredibly important on so many levels," said sophomore Mia Jiang. "Not only is it an amazing way to give back to our community and help people who aren't as fortunate as many of us are, but it also allows us to work together with our classmates in an interactive way."
Everybody is encouraged to donate if they are able to at this link. Three cans = $1!
About the Writer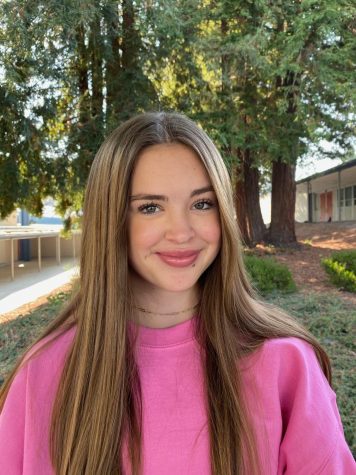 Ella Hack, Staff Writer
Sophomore Ella Hack has embraced change throughout her whole life. Whether through sports or the country she's living in, Hack enjoys new activities...