Governing Board Approves Hybrid Model Schedule
The Acalanes Union High School District (AUHSD) Governing Board approved the hybrid model schedule at its meeting on November 18.
Under the new schedule, students opting to return to campus will be split alphabetically, with the exception of some specialty courses, into Cohort A and Cohort B. They will attend classes on campus on alternate days; on days where they do not have in-person class, they will participate in synchronous instruction virtually.
Students opting to stay in the distance learning model will be grouped into Cohort C and will follow the schedule of 1 of the other 2 cohorts while live-streaming into their classes from Tuesday to Friday.
Periods 1, 2, 3, and 7 will meet on Tuesdays and Wednesdays; periods 4, 5, and 6 will meet on Thursdays and Fridays. Mondays will continue to be asynchronous.
All of the cohorts will begin the period together, but the class structure and activities for students not on campus will be up to the teacher's discretion. For example, a teacher could do a lab with the in-person cohort while students in the other cohorts do their own activities.
In-person Academy will be held twice a week. Students will be further split into 2 groups within their cohorts; while 1 group attends Academy, the other will have lunch, with the purpose of providing individualized support while ensuring that those at lunch social distance properly. There will be designated Office Hours for students in Cohort C to receive help.
The schedule is a revised version of the model that was presented to families in July 2020. The previous schedule had students participating in asynchronous instruction on off-campus days and switching to the completely asynchronous Fuel Education platform if they opted to stick with distance learning. It has been updated to reflect new legal requirements for instructional minutes, community and staff input, and lessons learned from distance learning implementation, according to Associate Superintendent Aida Glimme.
A group of teachers, administrators, counselors, and other staff members collaborated to create the new hybrid instructional model. Though Glimme said that "there really isn't a perfect hybrid model," she feels that this schedule "aligns the most" with the Board's guiding values: student and staff safety, high-quality education, social-emotional well-being, access and equity, support and intervention, and minimal disruption to the community.
"The recommended schedule also allows flexibility [for] required quarantine rules and potential student and staff absences, so people can live-stream in and not miss out on learning or teaching," said Glimme. In addition, immunocompromised teachers can still teach, while substitute teachers facilitate classroom activities for students on campus.
However, Glimme noted that the schedule "does present challenges," especially for teachers.
"It is a lot to ask to manage 3 cohorts at the same time. You can't provide the same level of rigorous instruction to all 3 cohorts. We do feel like there's a really strong value of bringing students back on campus, so we do think this is going to be worth it…but it is a challenge," said Glimme. "It is a significant change mid-year…It's an undertaking relating to curriculum changing, technology training, and the implementation."
Scheduled Staff Development Days will reportedly be shifted around during the 2nd semester, according to Glimme, in light of these challenges.
Due to the recent spike in positive COVID-19 cases, which has moved Contra Costa County from the red to purple tier, the Board plans to delay the January 5 reopening date until data shows a shift back to red for the duration of at least 2 weeks.
For that change to happen, Superintendent Dr. John Nickerson emphasized the importance of wearing masks, staying socially distant, and avoiding large gatherings.
"I will tell you that my observation of this community compared to other communities I've been in, I don't think we're great about that [social distancing, wearing masks]. I think it's critically important that we do not go to large congregations where we are unable to physically distance, and if we do then we need to keep our masks on," said Nickerson.
"While a spike in the winter was expected with the flu season and the holidays, no one expected a large spike before the holidays. It leaves us wondering how much worse it will get afterward," said President of the Acalanes Education Association Lori Tewksbury.
"The safety of our students and staff needs to be our 1st consideration, and while the hybrid model presents a great deal of challenges for teachers, 1 thing that it does allow for is a relatively seamless pivot from distance learning to in-person learning when it's safe to do so," Tewksbury added.
According to Glimme, Contra Costa Health Services requires a minimum distance of 4 to 6 feet between students, but the district aims to provide 6 feet of distance. This is the reason for a hybrid model, which can accommodate a smaller number of students in classrooms, unlike a fully in-person model.
Board members discussed the protocol for health screening and potential COVID-19 infections.
Students attending on-campus classes who feel any potential COVID-19 symptoms will be required to stay home and use the Company Nurse screening program every day, according to Nickerson. There will be a "robust contact tracing program" and "weekly testing for all staff," and students will be required to sign a Community Compact contract, agreeing to abide by COVID-19 precautions.
Nickerson provided an update on athletic seasons, saying the district is awaiting updated guidelines from the California Interscholastic Federation (CIF) but that as of now, no competition is allowed, and it is "highly improbable" that they will begin in December or January.
Associate Superintendent Amy McNamara also announced that Campolindo will be working with the restorative justice program Circle Up on January 11, with a focus on "building social-emotional relationships in the classroom." This is part of the school's larger efforts to carry out its Diversity, Equity, and Inclusion Action Plan.
Click here to see the presentation from the Board meeting and here to read the Transition to In-Person Learning and Safety Plan.
Leave a Comment
Your donation will support the student journalists of Campolindo High School's The Claw. Your contribution will allow us to produce more issues and cover our annual website hosting costs.
About the Contributors
Amanda Young, Editor-in-Chief
Amanda Young, a senior at Campolindo, enjoys raising awareness for social justice issues and being active in her community.

She is an intern with Stop...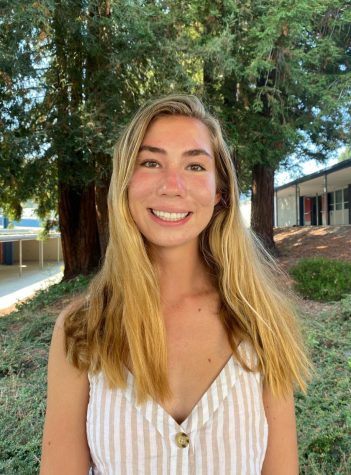 Gracie Woidat, News Editor
Senior Gracie Woidat has a passion for both working and caring for people and animals. She has found her calling by volunteering at the Lawrence Hall of...