SAGA Guests Highlight Drag's Role in Activism
The Sexuality and Gender Alliance Club (SAGA) hosted drag artist Mary Media during Academy on October 30. Media, a founding member of The Sisters of Perpetual Indulgence, shed light on drag's role in political activism.
1 of SAGA's social secretaries, sophomore Diego Davila Gil, invited Media to speak to SAGA after connecting with The Sisters through TurnOut, an organization SAGA has been working with to expand volunteer opportunities for club members and the Campolindo community.
"The main benefit of inviting The Sisters is showing the members of SAGA and Campo that Queer people really do exist in the world. No one would deny that SAGA is a great resource for Campo students, but that's also a small problem: it's limited to just Campo. It's closed off. We've been working hard this year to expand our work and our connections and this is one way we're doing that. That's also why we work with TurnOut," said Davila Gil.
SAGA co-president junior Aeryn Armstrong-Azhar said, "I think people in the Campolindo community can benefit from an event like this because it will shed a light onto an experience and way of life that many at Campo do not live nor will experience. Drag is a way of life and expression of one's self in a way generally seen as breaking the binary and dressing in clothes of the opposite sex, however, there are many sub-genres to Drag as well."
Founded in 1979 and described as "a leading-edge Order of queer and trans nuns" on their website, Media was 1 of The Sisters of Perpetual Indulgence's original Sisters.
According to Media, the order was started to "keep this new awareness of queer consciousness…going." By forming an order of male nuns and going out dressed in habits, this concept was perpetuated through street activism.
Media said, "We wore the same habits. When we went out into the streets, it made a real big impact on people. So we were doing a form of street theater, street activism. And when you go out into the streets dressed as nuns, and there's a bunch of you, it kind of gives people a moment to reflect and say 'Well what's going on here? Who are these people? And why are they dressed like that?' And so it opens up the possibility for people to consider other ways of using the street."
In the midst of the 1980s AIDS crisis and abundant anti-gay sentiment, the Order utilized the influence of its street activism to create awareness. "What we did in the Sisters at that time was to use the attention we got by dressing and dragging, going out into the streets and transforming the streets, and use that as a message to counter the ways in which people were being oppressed," said Media.
Media added, "You use drag and people pay attention, you're not dressed as every day. So we see the street as our stage. We're not so much into performance, although we do do that because it's a good place for people to congregate and cultivate joy. But we also see that the street is a stage. And so when you use drag and you go out into the street, then it changes the way people relate to the street, it changes the way people relate to you."
"Drag itself is a political act," said Media. "Because it's resisting the acculturation. It's resisting culture's attempts to put us into boxes of male-female, and it's rejecting that binary and saying that there's a lot more to an individual than just what labels you apply to them. And so, when you do drag…you are rejecting the politics of conformity."
Today, the Sisters actively work to resist attacks on trans people and their rights, achieve greater acceptance of LGBTQ+ people, and support other movements through drag and street activism.
Armstrong-Azhar said, "I think it is important for everyone to learn about and personally hear from people from all different backgrounds and walks of life so that they can experience all that life has to offer and witness the sheer diversity of the human race."
In looking at their goals, parallels can be drawn between the Sisters and SAGA. Davila Gil said, "The main goal of both The Sisters and SAGA is to educate and raise awareness around mainly Queer issues. Additionally, The Sisters do a lot of fundraising, which is something SAGA is trying to imitate by donating to organizations like TurnOut."
Davila Gil added, "The Sisters, just like SAGA, are a safe accepting space. They are a family just like we are. We're all just trying to cultivate love and understanding."
Leave a Comment
Your donation will support the student journalists of Campolindo High School's The Claw. Your contribution will allow us to produce more issues and cover our annual website hosting costs.
About the Contributor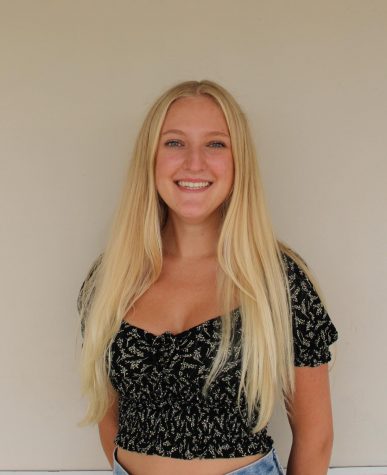 Jensen Rasmussen, Editor-in-Chief
Senior Jensen Rasmussen has been passionate about ballet since a young age, training and cultivating her love of dance throughout her high school career....