Teachers Split on Hybrid Decision
As a result of pressure from parents and students to return to in-person learning with Contra Costa County's move to the red tier in the California Blueprint for a Safer Economy plan, teachers face the difficult decision of whether or not to support the transition to a hybrid schedule.
Teachers received surveys to provide feedback to the district and indicate their willingness to return, just as families were asked to do. At the Acalanes Union HIgh School District (AUHSD) Governing Board meeting on October 21, Associate Superintendent Aida Glimme shared the results: 88% of certificated staff members indicated that they would return for the hybrid model. Among the remaining percentage of teachers, 5% have medical restrictions, 3% would retire or resign, and 4% would take "COVID-19 Leave."
Principal John Walker said, "It's quite an extensive survey. There were some very specific questions and then there's also opportunities for staff and parents to provide some written feedback and some thoughts on the potential transition back to on campus learning."
Changes in staffing will impact student schedules at all schools. Pending Board approval of the scheduling and distance learning model on November 18, parents will be asked to finalize their students' commitments to return and the master scheduling process will begin.
For many teachers, the decision is complicated, as they miss interacting with students but have concerns about safety and the spread of the virus.
"I very much want to go back because my favorite part of the job is the daily interactions I have with students, and we need more time to have a richer experience in terms of content and skills practice," said English teacher Shannon Sieckert, but "with flu season coming, lack of rapid testing, the time it takes vaccines to be approved and then effective within the community, etc. – [those factors] make returning very challenging."
For Sieckert, concerns also stem from experiences in other schools. "My mom is a teacher in Idaho, and got COVID at school. Her experience was horrendous, and that is definitely in the back of my mind," she said. "I think of the possibility of returning and a possible outbreak at Campo similar to what happened at my mom's school."
Science teacher Jane Kelson submitted a letter to the district Governing Board voicing her concerns. "An entire room full of people can be infected by someone who does [have the virus]," she wrote. "Putting a group of people together in a room for an extended period of time has proven to be the most effective way to spread the virus, especially if those people are talking. Masks help lower, but do not remove, risk (especially if the masks are low-quality and/or are not worn properly)."
Kelson also noted that standards of air exchange in schools are weak. Hospital rooms must have 8 to 12 air exchanges per hour, but schools have no such requirement, and the AUHSD 2020-2021 School Reopening Guidance simply states that heating, ventilation, and air conditioning (HVAC) systems will have "changed settings…for maximum air exchange."
Teachers acknowledged the imperfections of distance learning and the importance of social-emotional interactions. "My own children are struggling without the regular structure and social-emotional opportunities they'd have in school," said Sieckert.
However, Kelson said, "A hybrid model, if done safely, where students stay masked and 6-feet apart and don't interact before, between or after classes, will also not provide that. A hybrid model is not business as usual."
A primary concern for teachers is also the quality of instruction that will occur in a hybrid model. Social studies teacher Dino Petrocco said that the proposed hybrid schedules "reduce the amount of curricular time that [teachers] have with [their] students."
"I understand the concern about social-emotional aspects of you guys being isolated and not being able to see your friends and play sports – I totally get that. I just think that from an educational standpoint, we would be giving up a tremendous amount of instructional time and therefore the quality of our classes and the quality of education that our kids will receive will be impacted by that," said Petrocco.
Petrocco compared the situation to the "classic economic question of opportunity cost."
"If we value social-emotional stuff, then the trade-off is going to be that I'm not going to be able to cover as much material," said Petrocco. "That's going to be the trade-off, in addition to potentially exposing more people than before to the virus."
Kelson said, "Moving to a hybrid model will put a greater burden on teachers who cannot work harder than they already are. It will also mean less direct instruction for each student. Quality of instruction and therefore learning, will degrade if we move to hybrid."
"At this point, it seems like that's a trade-off [the district is] willing to make. And then it'll really be up to teachers and students if they want to make that same kind of trade-off," said Petrocco. "No one is compelling me as a teacher to come back; no one is compelling you as a student to come back."
The alternative for students is to remain in distance learning; teachers can take a leave of absence if they want.
Kelson added that students seem to be understanding the distance learning model and while some are struggling, hybrid is not the answer; Targeted intervention is. This includes, "a combination of distance, and very small groups, outside or in large rooms, in person meetings," said Kelson.
Sieckert said that regardless of the decision made, there will be "some issues to iron out because the virus doesn't follow rules and people's adherence to health guidelines isn't guaranteed."
Leave a Comment
Your donation will support the student journalists of Campolindo High School's The Claw. Your contribution will allow us to produce more issues and cover our annual website hosting costs.
About the Writers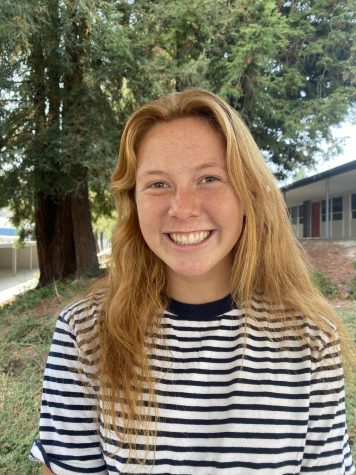 Jessica Rosiak, Editor-in-Chief
Jessica Rosiak, a senior at Campolindo, has always looked forward to exploring new places around the world. "I enjoy going to places that are unique and...
Amanda Young, Editor-in-Chief
Amanda Young, a senior at Campolindo, enjoys raising awareness for social justice issues and being active in her community.

She is an intern with Stop...