College Board Announces Modified AP Exam Format
The College Board provided further clarification regarding its at-home AP exams on April 3 in response to the COVID-19 pandemic.
In a lengthy email sent to students, parents, and teachers, College Board announced that these virtual exams will occur from May 11-22, and designated specific dates and times for each subject.
To accommodate the loss of instruction time due to school closure, these exams will only include topics and skills most AP teachers have already covered in class by early March and will be in a free-response only format. Further information regarding the content of the exams for each specific subject is posted on the College Board's website under the Exam Schedule page.
Students can take these exams on any device including a computer, tablet, or even smartphone. If a student does not have access to these resources at their home, the College Board will arrange access.
For most courses these exams will be 45 minutes long and include an additional 5 minutes for uploading either a photo or typed version of a student's answers. Students will be required to access the online testing system 30 minutes prior to the start of the exam.
Additionally, according to the College Board, these exams will be "open book/open note," though they claim that "points will not be earned from content that can be found in textbooks or online."
However, under no circumstances are students allowed to consult with their peers regarding test material or their scores will be canceled.
Results of these virtual exams will be posted in July. Make-up tests will be available June 1 through June 5 if a student is unable to participate in the regularly scheduled exams.
AP European history teacher Paul Verbanszky has "mixed feelings" and sees "economic reasons" as the primary motive behind the College Board proceeding with at-home testing during school closure.
"On 1 hand, it is important to give students the opportunity to take the exam, but on the other hand it is so heavily modified from previous years that I am not sure how well it can assess a student's performance," said Verbanszky.
For German teacher David Blumberg, still holding these exams was a "tough decision" that ultimately resulted in the exams being "highly compromised," due to a large portion of content being cut out.
Senior Kimya Peyvan is "happy the College Board is continuing the AP exams and [is] putting a lot of effort in trying to make it fair for all" but foresees "complications that are going to come with this new format" and is "afraid it might have more harms than benefits."
AP Environmental Science teacher Tren Kauzer, however, recognizes the hard work that has gone into preparing for these exams and thinks that it would be "a disservice to not offer an opportunity to apply their knowledge."
Along with the cuts to test content, Blumberg is apprehensive about the effectiveness of the speaking-only format for the language exams as this "favors those students whose strength is speaking." However, Blumberg sees the benefit of this format in preventing cheating.
According to Verbanszky, it is "more difficult to cheat on free responses," and this format is beneficial in the sense that it gives "evidence of a student's ability to make connections across themes, analyze important events, and make arguments with supportive evidence."
"I think free-response is one of the best ways to test comprehensive understanding and critical thinking skills. It is also harder to cheat on FRQs," said Kauzer.
The College Board has already planned several measures to prevent cheating such as using plagiarism software and even giving teachers copies of their student's answers to check for any student collaboration that may have occurred.
If students are caught cheating on these exams, depending on the severity, the College Board will prevent them from taking any other AP tests or the SAT/subject tests as well as inform the student's school, future college(s), and even the police.
Verbanszky is confident in these security measures\; even though "there will be students who will cheat and get away with it," the repercussions for getting caught are "not pretty."
According to Blumberg, although he is "sure that there are ways that one could cheat," it would be "quite difficult," on language exams as it "involves spontaneous or near-spontaneous spoken responses."
Along with review material on AP Classroom, starting on March 25, College Board will also be offering live AP review courses on its Youtube channel to help prepare students for their exams.
While Blumberg thinks that these new resources are a "good idea," he added, "in the lieu of the limited scope of the new format, much of it is not useful," as it does not strictly focus on material included on this year's test.
Verbanszky also hopes for these virtual review sessions to be "more engaging."
Kauzer, however, sees these resources being most beneficial for "students across the nation who do not have the opportunities that students at Campo have."
"It appears as though the College Board is trying to support all students to the best of their ability," said Kauzer.
Despite these unconventional circumstances, the College Board is "confident" that most "higher-ed institutions" will accept these exams for credit.
Even if credit is not awarded for these modified exams, Verbanszky hopes that AP students will see relevancy to taking AP courses beyond being awarded a 1-5 grade at the end of the year.
Verbanszky said, "True AP students don't just worry about the AP exam, but also want to enrich their knowledge beyond just what is on the test. I think AP classes/teachers/students sometimes lose sight of this. There is life and curriculum beyond the AP exam."
Leave a Comment
Your donation will support the student journalists of Campolindo High School's The Claw. Your contribution will allow us to produce more issues and cover our annual website hosting costs.
About the Writer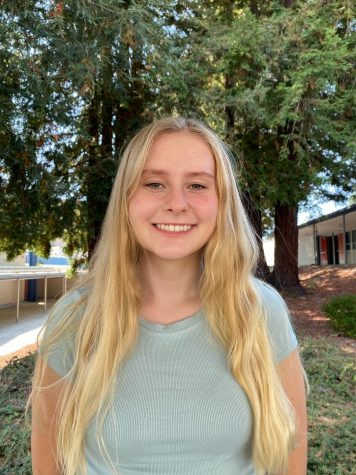 Erika Riedel, Sports Editor
Senior Erika Riedel enjoys volunteering and spreading awareness for multiple organizations. This summer, she volunteered at a number of places, including...