Walsh Joins YogaWorks Staff
While Chris Walsh has been teaching yoga at Campolindo since 2014, he also dedicates time to teaching at a variety of local fitness businesses, including Oakwood Athletic Club, The Big C Athletic Club, and Atma Yoga.
Most recently, he was hired at YogaWorks in Walnut Creek.
Walsh explained that he works at so many locations because "most yoga teachers are not hired full time" and that "it's hard to get full work at one studio unless you've been there a very long time."
A client of YogaWorks since August 2011, Walsh was excited when he found out about the opportunity to join its staff. "I got my teacher training there, and I did my 200 hours certification and my 300 hours certification. On September 27 there was an audition, and I got the chance to start there as a substitute."
The hiring process was difficult, according to Walsh. "You have to go through a pretty rigorous series of steps to get hired there," as one has to complete training in 200 hour and 300 hour segments. "Then you have to audition and either pass or not. I auditioned 2 times and didn't get picked, but the 3rd time was the charm," said Walsh.
While Walsh still wants more teaching and learning opportunities, he also hopes to educate others. "The YogaWorks teaching and training program, it's the best in the world as far as I'm concerned. And it is truly worldwide, so my very long-term goal would be to eventually be apart of the teacher training program that helps teach yoga students who want to become teachers."
Science teacher Jay Chugh is a member of the Walnut Creek YogaWorks studio and plans to train to become a teacher. "I'm there pretty much every day," Chugh said. "I think Coach Walsh will fit right in. He shares my positive attitude on life, and we both see yoga as a way to broaden our compassion, mindfulness, and joy."
Chugh also thinks positively of the studio as a whole. "It's a fabulous establishment, and because I grew up with yoga and meditation as a part of my culture and with various family members practicing daily, I feel that I know what authentic yoga looks like. YogaWorks is definitely authentic."
Freshman Elizabeth Chien, a frequenter of Walsh's yoga academy, said, "I love the atmosphere [there]. Whenever I have had a stressful week, I like to come in to the academy and destress. It's great. Coach Walsh is a really good yoga instructor so whenever I come out of there, I'm feeling super relaxed. He really seems like he knows what he's doing."
About the Writer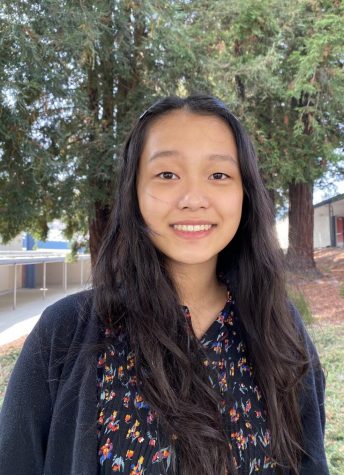 Yasmine Chang, Junior News Editor
Sophomore Yasmine Chang spends her time writing stories and creating new fantasy worlds, drawing on her love of reading.

Chang enjoys fantasy novels....