Leo Club Funds Cafeteria Salad Bar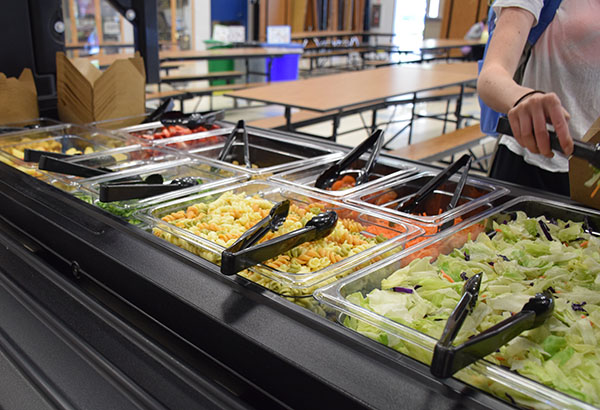 Thanks to the efforts of student clubs, there are new cafeteria lunch options with the arrival of the salad bar on April 29. For $5.95, students can choose from a variety of foods including lettuce, pasta, strawberries, cucumbers, croutons, and various other ingredients to create their desired meals.
It wasn't just the administration who implemented the change, however. A portion of the $2,000 fund needed was acquired by the Leo Club, who wanted to promote healthy lifestyles and options for healthier lunches. Leo Club President senior Eleanor Kim said, "The whole club agreed that it would be a good idea" to help fund the salad bar.
Through the club's annual Crab Feed fundraiser, Leo club accumulated enough money to support the salad bar. According to Kim, the club's current goal is "diabetes awareness and things like eating healthy," so the club voted to transfer the profits from the Crab Feed to the salad bar.
"Most of the offerings are locally grown and shipped directly to our kitchen," said Cafeteria Manager Amy Woo.
Campolindo is currently the only school in the district to have a salad bar, though the other schools will soon follow suit, according to Principal John Walker. "The 1st few days it sold out, meaning the kids drained it," he said.
"I think it will become a key component of the lunch offerings," added Walker.