Politicians Emphasize Teamwork
California Democratic congressman Mark DeSaulnier and Michigan Republican congressman Jack Bergman spoke to students during an Academy session on April 26.  The visit was coordinated by history teacher Lisa Herzig.
Bergman is the grandfather of junior Braden Maher, and said he wanted to join DeSaulnier on the visit to show bipartisanship. "With both Mark De Saulnier and I being here, Republicans and Democrats are like cats and dogs working together all the time. Unfortunately, the American people do not see through the media that Democrats and Republicans work together every day to hash out tough decisions," said Bergman.
Herzig added that "there are two reasonable sides potentially to every topic."
The session began with Bergman reflecting on his time as a Marine during the Vietnam War. Herzig said that she hoped the students "would get a real personal experience of what Vietnam was like, even from one person. I liked that congressman DeSaulnier commented on the homefront perspective, so they came from two very different walks."
"I got to hear a different perspective about the Vietnam war than what we learn in history class," said junior Emma Smith. "We learn about the protests in America and the politics of the war, but it was interesting to hear the perspective on the war from a soldier that was fighting in Vietnam on the front."
Herzig had already covered the Vietnam war in her history courses. "I wanted them to get another option, especially to look at the real human aspect of Vietnam," she said.
Bergman added that his 40 years in the military have led him to realize "how blessed we are to live and be born here and be citizens of the United States of America," citing that while our democratic system "is not perfect, it was never meant to be perfect. It was meant to be a form of governing of the people, by the people, and for the people."
"At all ages, we should always have more questions than answers, so I hope to stimulate thought," said Bergman, adding that the students "had great questions…That says a lot for Campolindo high school."
About the Writer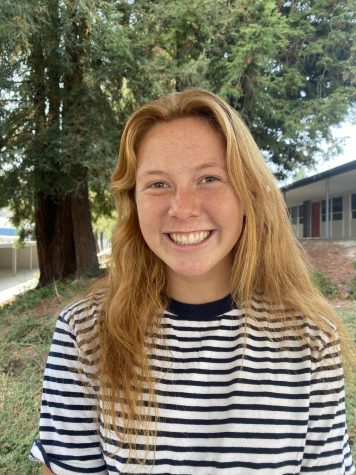 Jessica Rosiak, Editor-in-Chief
Jessica Rosiak, a senior at Campolindo, has always looked forward to exploring new places around the world. "I enjoy going to places that are unique and...