Michigan Musicians Join Band Performance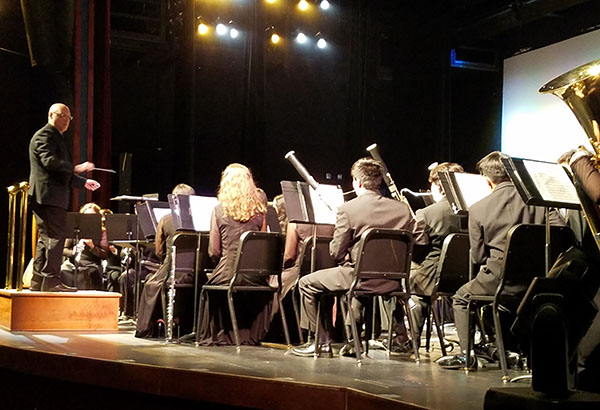 A symphonic band from Huron High School of Arbor, Michigan visited campus and joined Campolindo's band in a performance on March 28.
The bands took turns playing works from famed composers like John Philip Sousa and Richard Wagner.
"I was at the top of my game," said Huron 1st Tuba Nathan Chervin. "For us, I think that was 1 of the best times we played [the songs]."
"I always get a little nervous before a concert, which is because we are playing in front of a lot of people, and it's always a little nerve-racking, but, I'm kind of more excited for this one because playing with another school or to be hearing other schools is always fun," said 2nd clarinet junior Emily Marston.
Campolindo is accustomed to playing with guest performers, having hosted a group from the Sydney Boys High School of Australia and another from Oregon in recent years.
Campo symphonic band director Johnny Johnson said, "It's always great when you get to interact with other students in high school that are not in the area."
"I think it's a super exciting experience to be able to play with other people and know that there are people around the country also really interested in music," agreed band president and 1st tuba senior Adriana Derkson.
The Huron symphonic band also performed at San Jose State University as part of their tour, along with participating in other sight-seeing and cultural activities in the Bay Area before returning to Michigan.