Book Drive Helps Rebuild Paradise Libraries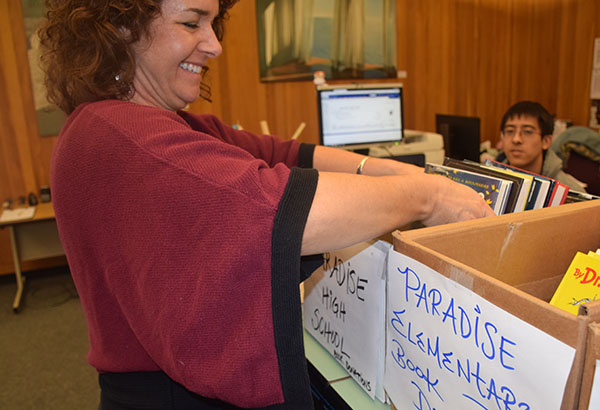 A book drive in support of Paradise, California, the town ravaged by the worst wildfire in the state's history, was held by librarian Sarah Morgan January 31 to February 22.
The Paradise Elementary, Intermediate, and High schools were all burned to the ground. "They're in a very dire situation because they lost everything," said Morgan.
Moran's hope is that her book drive will help provide reading materials for residents in the Paradise community.
Book donor and history teacher Lynn Schwab said, "I can't even imagine having to try and recover from something as devastating as [the Camp Fire]."
Morgan, who has been in contact with 1 of the Paradise school librarians, said there is still a need for books, book-ends, bar codes, and scanners. "She needs a computer, she doesn't even have a computer!" said Morgan. "No one should be without a library."
English teacher Nathan Ward donated books that his children had outgrown, and took the drive as an opportunity to "pass [the books] along" so that children in Paradise could give them new life.
Morgan plans to drive up to Paradise to deliver the books in person. "It's the details, especially in the library, that really makes a difference," she said.
Freshman and book donor Kalyani Srikanth said, "I thought it was just really sad what happened and I wanted to give to the cause."