Trivia Night Supports Academic Decathlon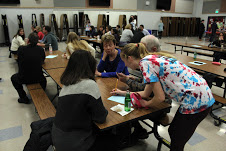 Academic Decathlon hosted a decades-themed trivia night for Moraga families and students in the multi-use room on January 24.  The event raised funding that will cover competition expenses for the team.
Since Contra Costa County defunded the program 2 years ago, the Academic Decathlon team has been looking for ways to cover tournament entry fees, test fees, and practice materials.
To prepare for the fundraiser, club members went door-to-door at the Rheem shopping center requesting donations. According to adviser Paul Verbanszky, "We had generous donations from Amoroma, Clocks etc., and Royal Siam. We also had parents donate gift cards for Amazon and Starbucks and Target."
Before the event, the team came up with trivia questions in the same style as their super quizzes, where team members have 7 seconds after they see the question to answer. Topics ranged from art to history to pop culture, all revolving around the decades theme.
Over 50 people participated, said Verbanszky. "It was fast-paced, it went very quick, and people had a good time," he said.
Along with Verbanszky, team captains junior Maddie House and senior Lillian Heutmaker moderated the evening.
According to Verbanszky, they were surprised at how well the participants answered the trivia questions. Each member of the winning team received a $25 gift card.
"The parents did pretty well. Some of the questions were from AcaDeca– like Decathletes should have known the answers –so it was funny to see if the parents could answer those ones, and we gave the same amount of time that we would get. I think it was pretty cool for them to see what we go through," said House.
While the parents tested their knowledge on the decades, AcaDeca students provided refreshments in the form of a bake sale and staffed a child care center. "We had 4 Decathletes working a baby-sitting type thing in Verbanszky's room and I heard that it went really well. We had probably 6 kids with games and activities and all the kids came out looking really happy," said House.
A student band, The Cooks, led by junior Sean Donovan, provide ambiance as well. "They were amazing. We got a lot of good feedback on their performance," said House.
"We met the goal for paying the entry fee, which we're very excited about. We had a lot of generous donors. A lot of parents would come by and give extra money for the raffle tickets or bake sale," said Verbanszky.
The team plans on making this an annual fundraiser. "We got a lot of money from it to help pay for the competitions, which is good, and we're gonna try to make it an annual event because it's a good way to make money," said sophomore team member Carmen Horenstein.
"Though we'd love for more people to come next year, it was a really good turnout. I think that everyone was pretty happy to be there and support the team," said House.