Open Hands Event Moves to Miramonte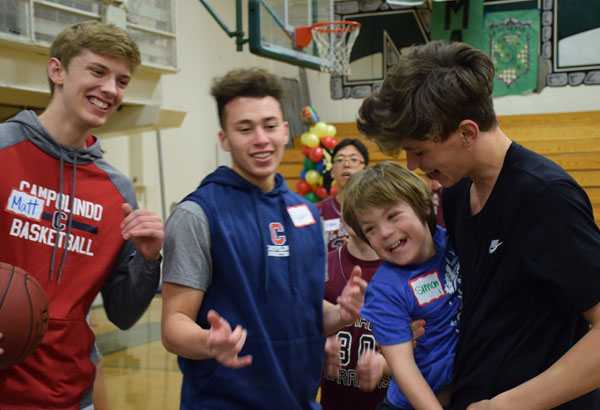 The Project Open Hands club successfully executed its 9th annual basketball event for athletes with disabilities on January 27, though the venue was changed at the last minute due to a broken hoop in the Campolindo gymnasium.
The event was moved to Miramonte following the closure of the Campolindo facility due to safety concerns following the installation of a new backboard and hoop that was deemed by district officials to be flawed.
"It was a challenge to find out Friday at 3:30 before the event that it was moved," said club advisor and learning skills teacher Michelle Alessandria, adding that "everybody rallied and we made it 1 of our best events."
The installation of the new equipment was necessary after a cable snapped earlier in the week and the backboard came crashing down.  While no one was injured, the process of reopening the facility took longer than expected.
Upon arriving at Miramonte, club members discovered that there was to be a leadership conference in the gym the next day, so additional time had to be spent prepping the gym for the basketball event. "It was chaotic at first, but in the end, it all worked out– the event went fantastic and as planned," said club president senior Kelly Ruane.
At the event, club members assisted in setting up snacks and prizes for children and adults from the Mount Diablo Warriors basketball league. Members of the Campolindo boys' frosh, JV, and varsity basketball teams helped lead the athletes in various drills and scrimmages before the group came back together for an awards ceremony at the end.
"We really like the basketball team, how the freshmen, JV, and varsity team are all participating in the event, and the coaches are so on board," said Alessandria. "[Club presidents] Ava [Charlesworth] and Kelly [Ruane] have it so organized now that it's just so well-run."
Even those not directly involved in the club enjoyed giving back to the community by conducting drills for the athletes. "I loved the Project Open Hands event because the kids always had smiles on their faces, and they were constantly laughing and having fun," said varsity basketball player junior Peter O'Donnell.