Vocal Concert Celebrates Holiday Season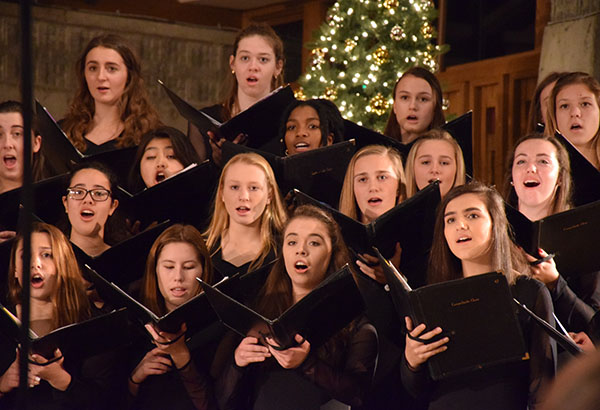 The Chamber, Bel Canto, and Concert Choirs performed in their Wassail Concert at Moraga Valley Presbyterian Church on December 19. The performance featured traditional choral music as well as holiday music, a repertoire that the choirs had worked on since early October.
Alongside religious choral pieces, Chamber sang the satirical piece "Good King Kong Looked Out," a parody of classic Christmas carol "Good King Wenceslas". The singers brought out kazoos to accompany themselves for their performance.
Bel Canto performed a unique arrangement of the holiday classic "Deck the Halls" in 7/8 tempo. According to junior Kyle McDonald, this arrangement of "Deck the Halls" was different because "it was a lot more rhythmic and set in a different time signature and there are different beats emphasizes and that makes it more interesting. "
The Concert Choir opened the concert with "Hosanna in Excelsis."  Junior Kiera Glenn said the choir was "nervous because this was our most difficult piece for concert choir, but we totally nailed it and it was great."
The final piece was a simple arrangement of "Silent Night" in which all of the performers join in on stage. As per tradition, singers accompanied their vocal articulation with sign language.  Performing "Silent Night" in this manner has been a tradition since choral director Mark Roberts took over the choral department.
"In particular, in the section where it is kind of chaotic and everyone is singing individually, it helps give somewhat of an actor to the audience so they have a visual component that goes with the auditory component. And it makes for a more compelling performance that is not only auditory but also visual," said Roberts.
But according to McDonald, the highlight of the concert was "Sleep."  During this performance, concert choir encircled the audience and closed their eyes as they sang. "Speaking from the audience it was truly 1 of the most powerful performances that I have ever seen," she said.