Sophs Surprise Henson with Baby Shower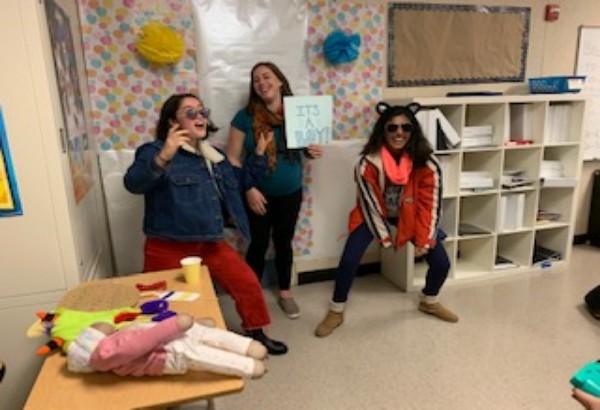 Sophomores Quincy Morgridge, Angie Chavez, and Mackenzie Bunzel-Hardie threw English teacher Lauren Henson a surprise baby shower on December 14 as a send-off before her maternity leave. The sophomores invited all of Henson's students to room B7 for the celebration, which was decked out with refreshments and even a "photo booth" with props.
"I was super surprised and it was really sweet how supportive of me the students have been throughout this whole pregnancy," said Henson. 
According to Morgridge, the idea for a surprise shower took root in September, when Henson announced to her classes that she was going to have a baby.  "We decided to plan this big baby shower and invite all of her students, and there was actually a pretty good turnout!" said Morgridge.
"Honestly I thought that it was gonna be only like 10 people, but when I walked in and saw like 30 people crammed in that room I was really shocked, and stoked about how many students came to support Ms. Henson," Chavez said.
The photobooth was a particular hit, as students were lining up to snap a photo with their classmates and English teacher. "My favorite part was taking pictures with Ms. Henson and all my classmates because it really just resonates how we are in class because we were laughing and having a great time," said sophomore Sahaana Rajesh.
Long-term substitute teacher Neal Modelevsky will take over the classes after winter break. According to Henson, Modelevsky will "bring a wealth of knowledge to the classroom."
"I'm kind of worried about having a long-term sub because the last time I had a sub like that their teaching ability was questionable, but I have faith in their decision," said Rajesh. "I will really miss her so much, but I wish her the best on her leave and I know her baby boy will be the cutest ever!"
"I think I will [miss teaching]," said Henson. "Sophomores are a fun bunch, so I will miss being in the classroom, but I'm definitely ready for this next chapter with our baby boy next year."