Choir Continues Campus Caroling Tradition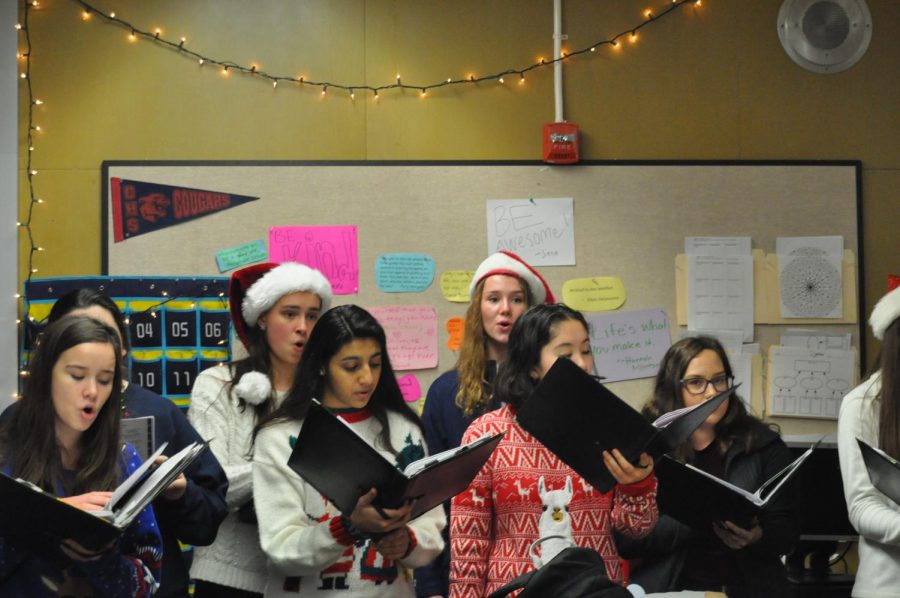 The women's Bel Canto choir spreading holiday cheer by caroling across campus on December 21.
The group performed classics like "Away in the Manger" and "Deck the Halls".
The Bel Canto choir hoped to boost holiday spirit and provide a fun diversion as the semester wraps up.
"The goals are the same as they are every year, which are to have fun travel around and get to see all of the different classes and spread some holiday spirit," said choir instructor Mark Roberts.
"Everyone that's not a freshman knows about the tradition on the Friday before the break so it something to look forward to. It brings holiday spirit to every class," said Bel Canto senior Anushka Malhotra.
According to sophomore Emma Dillard, the performance was inspiring. She said it was "really cool to see girls my age sing in front of their peers confidently and beautifully."
Malhotra said, "Most classes received [the caroling] well and everyone likes when we come in and spice up the day. Most people reacted pretty well with applause, some people cheer, overall it was pretty good."
"We all really enjoy it and we all really have a lot of fun doing it and it is nice for the people listening to it because no one really wants to be at school today and everybody wants to be on break at this point. It is just a nice little pop of cheer into people's days," concluded sophomore Bel Canto singer Diana VanGilder.