Leadership Enjoys Delayed Classroom Feast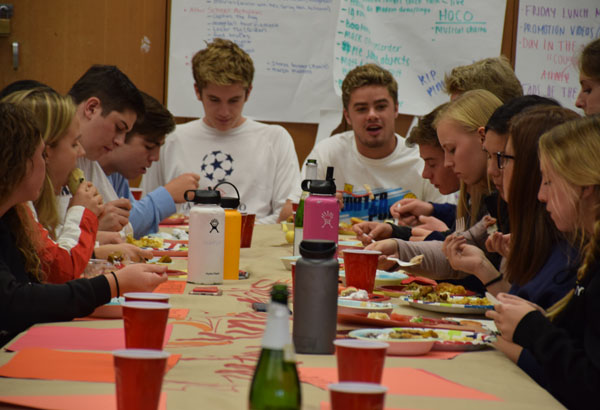 When the Leadership class hosted its rescheduled Thanksgiving feast on November 28, postponed as a result of the school cancelation on the Friday preceding Thanksgiving break due to poor air quality, campus administrators joined in the festivities.
ASB president senior Katie Clare said, "It was super fun and it was awesome this year because the administration came, like Mr. Drury and Mrs. Lee, so it's always fun to have a friendly relationship with them because then they'll approve more fun stuff for our school."
Leadership teacher Lindsay Webb-Peploe confirmed that associate principals Laura Lee and Jon Drury took part in "a really wonderful spread."
According to Clare, the class prepared decorations and food before the break. "We assigned everyone to bring something because we usually have it the week before Thanksgiving break, but this year, the school day got canceled the day we were supposed to have it, so we had to have it after."
Clare made personalized place-mats for each participant, upon which she encouraged them to write down that for which they were thankful.  Webb-Peploe stretched a table cloth across a row of desks to create a dining table.
Leadership student junior Chase Giglio said, "I thought it was super fun but it was kind of disappointing because I was really excited to do it on the Friday before."
Because of the schedule changes, Giglio, who was in charge of the turkey, had to freeze it over the break and then reheat it before the feast. "We started defrosting it but then we had to refreeze it but then what we did was we cooked it, cut it, and reheated it because it didn't reheat evenly. It was a little dry, but it was still pretty tasty," he said.
The schedule change was "a pretty small problem compared to the people who lost their homes in the fire," said Webb-Peploe. She did not that some students who were not able to attend on the original date due to their participation in the waterpolo championships, ending up being able to participate as a result of the rescheduling.
"It was still equally fun getting to come back and get a taste of Thanksgiving break once school started," added Giglio.
Webb-Peploe said when she began to teach Leadership, the feast was the 1 event that was non-negotiable for the students. In her opinion, "other classes should do it" too because they enjoyed it so much.