Debate Squad Hosts 1st Home Tournament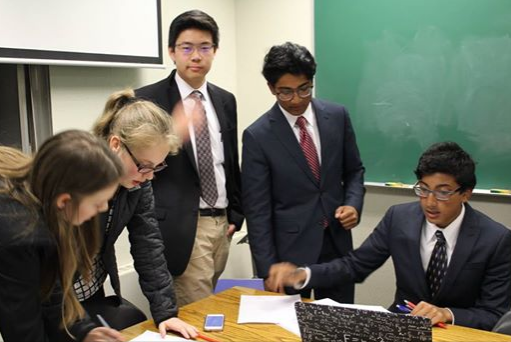 After participating in 3 different tournaments within 3 weeks and placing 1st in each, the debate team held their 1st tournament at home on October 20. The event was made possible due to the size of the Campolindo debate team, which topped 45 participants.  This is a requirement in order to host tournaments in the Bay Area debate league.
"It's nice to see that other schools in the Bay Area are interested in competing here, especially so many," said co-president senior Shannon Bonet.
This year the club welcomed 20 new freshman members. "There are almost more incoming freshmen than there are the returning, which is good news for the future," added Bonet.
Sophomore Delu Zhao believes that the sizable increase in participants will give the team a strong edge against their opponents this year. "We are very fortunate to have such a big team this year, and so many skilled debaters too," said Zhao.
While the tournament was generally a positive step for the program, debate participants confirmed that some poorly trained judges had issues following the rules of the debate.
Sophomore Vishal Lashkari entered a debate with a different interpretation of a prompt than the opposing team. He said the judge used outside information to determine the proper version of the prompt, which is not allowed. "Fortunately, the problem was quickly dealt with," said Lashkari, adding that the judge was subsequently removed from the tournament.
The team now has its sights set on another win at the Tournament of Champions — the largest debate competition on its schedule.
Bonet suspects that the club has a good chance of repeating as tournament champions. "Campo's won all the tournaments it has competed in this year, which is really awesome, so I think we are on the right track," she said.