Traditional Events Highlight Homecoming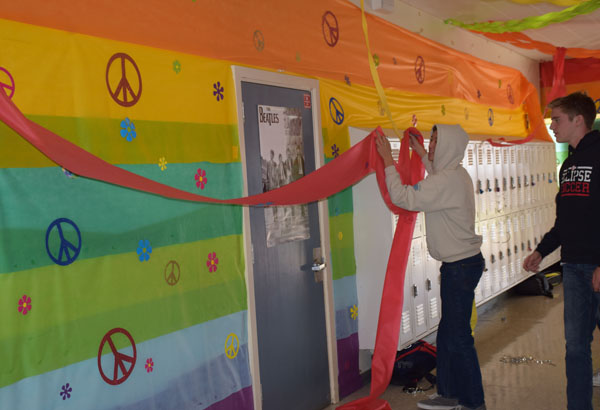 Various festivities such as decade-themed dress-up days, a lunchtime carnival, and a rally were featured during the homecoming week of October 15.
According to leadership officers, planning spirit weeks is no easy feat. "It's a long process, but it's worth it because it's really fun," said senior Alex Corallo, who explained that the class starts by brainstorming dozens of ideas before narrowing them down. "This is one of the best weeks of the year," she added.
Dress-up days included 90s Denim, tie-dye, pink for breast cancer awareness, Wild West, and class homecoming shirts, but few made the effort to dress the themes. "Not many people dress up because I think a lot of people don't care," said sophomore Angie Chavez.
To encourage students to dress up and participate, Corallo said, "Meg [Balfrey], Sydney [Yuen] and I were thinking of doing something called 'Cougar Clout', and basically it'd be like on Fridays, if people wore Campo gear, we would give them candy at lunch, but we haven't gotten that approved yet."
The rally featured a video and dances from the cheerleading and CAPA groups, with the seniors earning the coveted Spirit Cup. "I almost blacked out," joked freshman CAPA dancer Sydney Reed regarding her performance. "It was really nerve-wracking, but everyone at Campo is so welcoming so it was also fun."
"Usually I get really nervous performing in front of the whole school, but this time it was just really fun," added CAPA senior Katie Clare. "I think it's because I'm a senior so I'm more comfortable but it was just so much fun. I love Campo."
Following the rally, Friday's lunchtime carnival in the quad featured pizza, ice cream, Chick-fil-A and Jamba Juice available for purchase as fundraisers for each class, as well as various activities on the lower field such as a bouncy slide.
The week concluded at the homecoming football game against Northgate,which Campolindo won 49-0, and the junior and senior powderpuff games, which the senior class dominated.