Seniors Win Spirit Cup Competition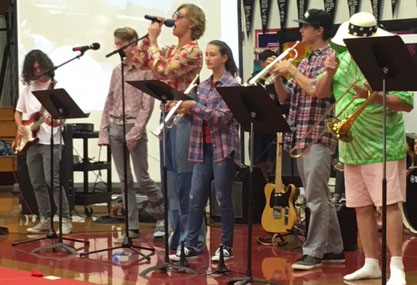 This year's Homecoming Rally, featuring more inclusive activities, was held on October 19.
According to Spirit Commissioner Cal Hunter, the leadership class worked to involve the whole audience, which included school staff.
Hunter noted that campus counselors served as judges during the entire spirit week.  They judged the t-shirt designs, murals, hallway decorations, rally dances, and overall spirit of each class.
"It was really cool to get them involved 'cause we want to also get the whole admin excited about rallies, because that is a really big deal to us," said Hunter.
The "spirit cup" was awarded to the senior class for their overall score for the week.
"I feel like seniors are always the most spirited. After being here for 4 years, they kinda get how everything works, and I feel like the participation is there. Everyone is really excited to represent the school as the oldest grade," said Hunter.
This year, Spirit Coordinator Alex Corallo decided she wanted to do a dance competition between grades set to music from each class's assigned "decade." The idea was a spin-off of an Acalanes tradition. "Our dances are a lot shorter and they were more appropriate and more focused on dancing," said Corallo.
Sophomore Reilly Yuen got a group of sophomores from California Academy of Performing Arts (CAPA) to perform their '20s themed dance. "We would get together during lunch or maybe academy and just choreographed. It was super collaborative – everyone contributed," she said.
Yuen admitted that it is not easy to dance in the rally. "It was a little nerve-wracking, not going to lie, getting up in front of the entire school. Everyone is watching you, but really, in the moment it was good," she said.
The senior dance featured senior Kellen Kvech, who wore 7-inch tall silver boots and danced in the center of the gym. Unfortunately, during the dance, Kvech sprained her ankle.  After a visit to the hospital she had to wear a boot for 10 days.
Kvech admitted that she wore the heels because she knew they would get a good reaction. "The boots were 7 inches so they are pretty hard to walk in, but I wore them 'cause they are really dope. I wore them to prom and then I needed to wear them again and they fit the '70s theme," said Kvech.
Despite her injury, Kvech doesn't regret agreeing to participate. "The rally was still really fun. I'll definitely wear fun shoes like that again, cause I'm gonna buy a doper pair and wear them to senior ball," she said.