Ignition Sparks Auto Shop Fire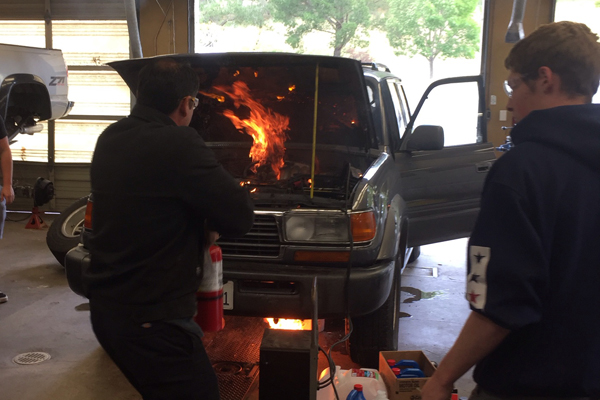 Senior Nick Wolford accidentally started a fire in the Auto Shop on May 10 when he tried to start the engine of his vehicle. The flash fire was likely the result of ignition sparks igniting gas vapors.
Wolford was disassembling the engine during class and following the instructions of his teacher, Steve Boone. "Mr. Boone had me fully check every connection and was very thorough about it," Wolford said.
"I had taken off a vent filter so I could clean out the valves. There were gas fumes from the tank leaking out gas which filled the inside of the engine bay," explained Wolford.
Senior auto tech classmate Alex Capurro, who witnessed the fire, said, "Everyone started yelling 'Fire!' and Mr. Boone put it out before any smoke could really build up. We were instructed to leave the shop so it could air out while the retardant settled."
The fire was not entirely unexpected.  "Before he started it [the car,] we had a fire extinguisher ready, and we were able to put it out," said Boone.
"He makes sure that we have a fire extinguisher ready whenever we start a car for the first time," added Wolford. "It saved the car really. If it had burned even 5 seconds longer it would've completely ruined the car."
Wolford said that critical damage was narrowly avoided. "No damaged hoses or valves. Just a lot of dust everywhere, thankfully," he said.