Women's Power Punctuated by Guest Speaker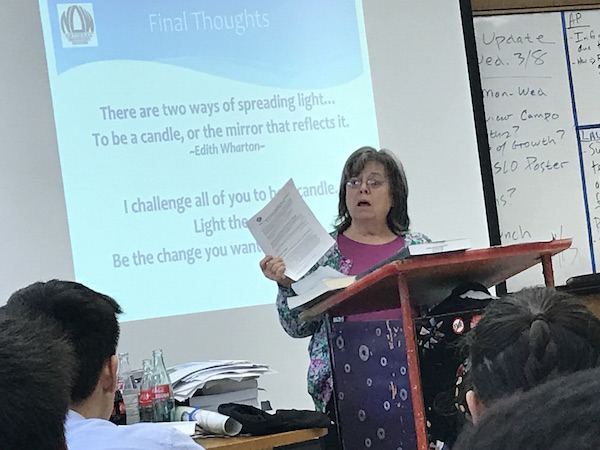 Vice president of the Contra Costa Branch of the National Organization for Women, Mary Davis, spoke to the Awareness on Campus (WAC) Club on March 8. The club has been sponsoring a Women's Power Month.
Davis began her presentation giving the crowd of over 60 students a lesson on the history of women in society, describing the California "bubble" and emphasizing that situations were very different in other parts of the country. Davis, who graduated from San Francisco University with a degree in biochemistry, also touched on discrimination in the workplace and the wage gap between men and women.
Davis described the causes that led her to become an active participant in NOW [National Organization for Women]. "A lot of it was [because of my own personal experience], because I came out of the military and there was a lot of discrimination in the military, and it was the time that NOW was getting a lot of press about the work that they were doing, and it seemed like a logical place for me to go to do what I could in any way," she said.
Davis also emphasized the importance of young people in supporting feminism and lessening sexual discrimination. She urged the students to participate actively in organizations such as NOW in order to make a difference, even in the "California bubble."
"I live locally, and I think it's extremely important for the movement to bring in new blood, young people, because they're enthusiastic, they care about the issues, they just don't necessarily know what to do to further the cause," said Davis. "I just think it was a wonderful opportunity for me; I feel privileged to have been able to come to talk to this incredibly large group about something I care about and that they obviously care about."
Club president Lydia Hancock was surprised and excited to host the activist. "We originally wanted to have a symposium, which we usually do in March for Women's Month, but this year we wanted to do power month instead, where we meet every week rather than biweekly, and I reached out to NOW because I'd heard a lot about them and I saw that we could actually contact them because they're in Contra Costa," said Hancock. "I went out on a limb and contacted her through the [NOW] website and she totally responded."
"It's interesting to see a different perspective on feminism, and the ways that people can get involved," said  sophomore Randall Gee, one of the club's male members.
"It was really awesome to see the turnout, and we also have a big group of guys this year which is really good for us," Hancock added.
WAC, who served pizza and sodas at the event, meets every other Wednesday in room E9 to discuss various modern-day issues regarding women in society.