Concert Reveals Rising Confidence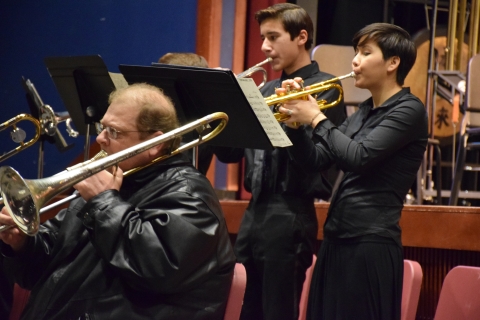 The Instrumental Music program performed a wide variety of songs to a large audience at its annual fall concert on November 19.
"I think it was a fun concert, full house, good crowd," said conductor Johnny Johnson. "It's what we want to see from concerts."
It began with the Jazz section playing "I Told You So" and "Brazilian Lace," led by music directors Tommy Davidson and Alex Murzyn. Following this the concert band offered "Hosts of Freedom" and "Days of Glory."
"It's a pleasure to see how this music program has improved over the years," said Davidson.
The orchestra's performance featured many European songs, with notable "Concerto Grosso in G minor" by Arcangelo Corelli and "Brook Green Suite" by Gustav Holt.
While the audience appeared to enjoy the performance, some in the instrumental were more critical of their efforts. "There were a few mistakes," said alto saxophonist Edward Chen. "We could've done better. The soloists did well."
Preparations for the concert have been ongoing since the beginning of the school year. On Wednesday, the band department held an open recital where they crammed one last time before the performance.
One significant challenge for the musicians was the absence of their director prior to the event. "Johnson was sick for a few days before the concert," said violinist Remy Benner.
Performance anxiety is part of the experience. "The first piece, people were really under confident," said percussionist Armaan Johal. "Our confidence grew as the show progressed. I think it went pretty well."
The show was well received by the public. Johnson concluded with the symphonic band and the piece "Incantation and Dance," slowly building up the strength and variety of instruments, until the fortissimo reached the conclusion with a standing ovation.  After the show there was a small-after party for musicians and their families.
"My favorite part was the final song," said Johal. "Everyone got it together at the end."