Fair Showcases Moraga Businesses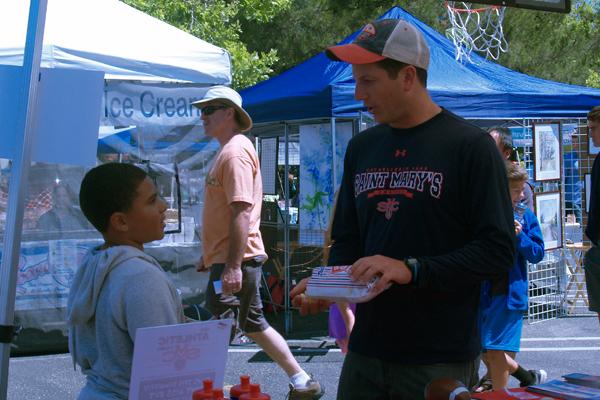 A record number of St. Mary's College students volunteered in the Moraga Community Fair and Car Show on Saturday, May 9, along with a few Boy Scouts from Campolindo.
"[It's the] biggest turnout I would say, ever, largely because of our Associated Students incoming President Diego [J.] Rios," said St. Mary's College Dean of Students, Evette Castillo Clark, who helped run the St. Mary's College booth at the fair.
Rios, a junior at St. Mary's College and fair volunteer, wanted to get more involved in the Moraga community. "My freshman [year], I met Edy Schwartz [member of Moraga Chamber of Commerce], and she said, 'I want to get involved in the town.' We met up, and I told her my story, and she's been a lot of help ever since." He volunteered at the fair for 3 years.
"But last year, I came and there wasn't a St. Mary's table," Rios said. "There wasn't a lot of St. Mary's presence. When I was talking to Brother John, the specialist assistant to the president, one of our brothers on campus, he said 'Where are the students and where is our booth?' and I said, 'You know what, it's not here this year. But I will make an effort to bring it back next year.' I contacted all of these different departments, and I got these volunteers and I spread  the word around campus. So this year we have our St. Mary's booth."
The booth promoted activities from St. Mary's College that the Moraga community could participate in. "We've got performance, theater, campus recreation summer camps, mass, mission administry, and grad programs," said Clark.
Rios added that he was happy with seeing all the St. Mary's students at the fair. "When I walked around, I had a smile on my face because I would go to all these different booths and see all of these St. Mary's students helping out the Moraga community and volunteering and interacting with these little kids from Moraga," he said. "And that's something you don't see everyday, which I think we should. There should be more of a connection between Moraga and St. Mary's."
Rios was surprised there was not a booth at the fair run by the local high school.  "Campolindo is so close to here, and it is such a big part of the Moraga community, I would say. I would really enjoy seeing Campolindo here in connection with Moraga in some way. So maybe in the future, something can be worked out because I know a lot of Campolindo students have questions about college, and they're high school students and we're college students," he said.
Sophomore Michal DaRodda added, "I think that if teenagers and people start volunteering for things in high school, that's great, and the fair is a very easy accesible way to help." DaRodda worked at the fair to help fundraise for his Boy Scout troop.
Aside from St. Mary's prominent presence, many other new things were introduced at the fair this year. Ellen Beans, the faire organizer, said that this year's event had the biggest car show ever, a High Striker game to replace the dunk tank due to the drought, and a new trash and recycling system. The fair also included food trucks, many children's activities, wine tasting, and booths about health, house improvement, energy efficiency, art, and local businesses.
"[The fair's] purpose is to showcase the Moraga businesses and the non profits," Beans said. "It's hosted and planned by the Chamber of Commerce, and we want people to spend their money and their time here in Moraga to support the community."
Artist Jane Griggs, who held a booth at the faire, said that it helps expose her work to people who are interested in commissioning her. She said, "I really like it. It's an opportunity to meet people that really like my art."
Art Worledge, a Moraga resident and faire and car show participant, said that he enjoyed the fair so much last year, he came back again this year. "I'm loving it," he said.