Field Trip Offers Latin Food, Film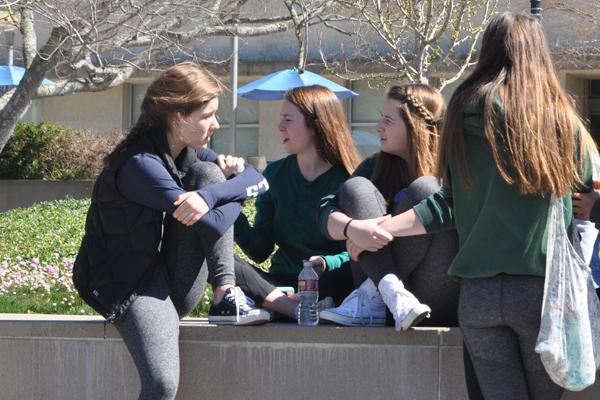 Spanish 2 students ventured to Berkeley on Tuesday, March 17 for a field trip focused on Latin American culture. Featuring a viewing of a Spanish language film and dining at a Mexican restaurant, the trip was organized by Leticia Del Toro, a Spanish and French teacher.
Del Toro said, "I've kind of tagged along on other field trips with some of the more veteran teachers have had, but this time I put it together myself based on what I thought would be fun."
Over 100 students from Del Toro and Concha Martinez' classes filled 2 school buses that departed campus in the morning. Once in Berkeley, the first stop was Picante, a casual, authentic-style Mexican restaurant located on 6th Street. While it usually opens at 11am, the restaurant opened at 10 am to welcome the students as part of an arrangement negotiated by Del Toro.
"I got the idea of calling Picante, because it's a really solid, authentic restaurant. I knew that they were large and that their service is really good. But they were also closed at the hour I wanted to [go], so I had to talk to the manager and explain to him my vision for the day. We had a couple of conversations and phone calls. He said he'd be willing to open up early if we could organize it so that we had a pre-order, and everything was ready to go smoothly," Del Toro explained.
Food options included carnitas tacos, carne asada tacos, chicken tacos, as well as various burritos. The tacos were soft shell (the traditional Mexican style) topped with fresh guacamole, diced onions, and bell peppers. The burritos consisted of rice, beans, and a choice of meat. Homemade corn chips were also served, along with either horchata (a milk and cinnamon drink) or watermelon agua fresca (a fresh squeezed juice mix.)
"It was a leisurely lunch and we could take our time, which is bit more typical of what a Latin American meal would be like" said Del Toro.
Sophomore Frenel Francisco said, "I haven't really been to many Mexican restaurants but to me it was pretty good food. I'd recommend it."
Freshman Payton Fraser agreed. "The restaurant was very authentic Spanish; it was colorful and had a lot of cultural elements. The food was good," he said.
The restaurant, which is decorated with festive papel picado (colorful cut paper) and clay masks, welcomed students at the entrance with bags of chips, drinks, and wrapped lunches, depending on what the students pre ordered. Students were able to sit wherever they wanted in the restaurant, and tables quickly filled with groups of friends. After eating, the group returned to the buses for the across-town trip to UC Berkeley.
Exiting the buses, students congregated outside the Berkeley Law School buildings, and sat around the fountain and grass areas. Food trucks parked nearby, and some students purchased Krispy Kreme donuts from a school fundraiser stand. After time spent in the quad area, the group filed into the Robert L. and Alice Bridges Lecture Hall to view a movie, Mateo, Colombia's submission for the Oscars.
"[At the campus] we were met by staff of the Center for Latin American Studies, to view a film which is part of their Cine Latino program," Del Toro said.  "I sent them an email complementing their selection of the film, saying I had enjoyed their programming over the years, but that since it was in the evening, it was difficult for me to send my students out there and would they ever consider doing a screening for one of their programs in the daytime. They said yes, we'd love to have you. They essentially made every effort to invite us and to follow through with the plannings. I think it was a real honor to have Campolindo students there on campus."
Francisco explained, "It [the movie] was about a boy who lives in a poorish [sic] neighborhood with his mom. He goes to school and works with his uncle who's a bad man, in a sense; he's the villain or antagonist of it. Basically he's getting influenced by his uncle and he doesn't want to live that life after joining a theatre group that changes him. It changed his vision and his mindset."
Fraser said, "I liked it. They showed a lot of the Colombian culture and everything so that was interesting."
Fraser thought the trip was a success. She said, "I thought it was a great experience, being able to go to Cal especially and see everything around there. That's what I mostly got out of it. I thought they could have maybe brought in some more elements of Spanish along with the movie, that that would've make it better, but it was successful."
Francisco agreed. "It was a pretty neat experience, going to Berkeley and getting to leave school to learn about Spanish. It was pretty successful, I'm not gonna lie, but there were some mistakes here and there. A lot of time was wasted when we could've been doing some other things instead of just waiting. But we can't really help that now," Francisco said.
Del Torro said that she would "absolutely" be interested in doing a trip like it in the future. "I had a great day and most of what I saw, kids were enjoying it; the chaperones had a good time, too. I probably will."