Sophs Dominate Dodgeball Tourney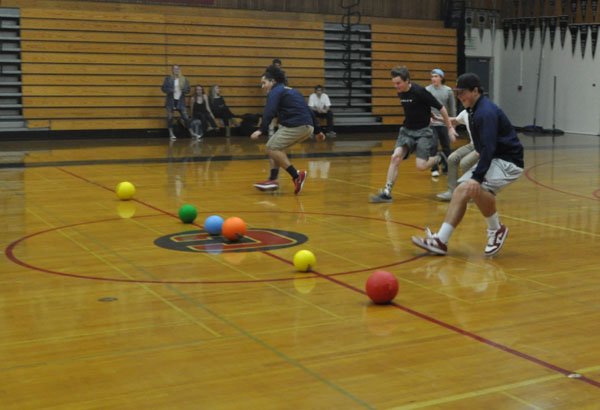 Dodgeball mayhem filled the big gym during lunch daily from February 23-27. The team tournament was organized in brackets, and used standard dodgeball rules. The tournament championship squad was comprised of sophomores Jacob Westphal, Ryan McCormick, Joey Berzins, Jonathan Chu, and Brandon Boccobo.
According to senior Leadership student Sarah Chu, the tournament was organized in an attempt to increase school spirit. "It is a good way to get a lot of people involved. It is a great way to not only boost school spirit, but to create unity among the school," she said.
Sophomore Leadership student Ryan McCormick agreed, "Dodgeball games is (sic) actually a fun activity that we do at lunch, to get everybody involved in. We are trying to include the entire school in one big, fun, activity that would be fun for everyone."
Leadership advisor Dino Petrocco explained how the event was organized. "The format was this: students would sign up with a 6-8 person co-ed team, and then we [Leadership] made brackets. Teams could play each other [in] single-game elimination, ultimately building up to a championship [game] on Friday," he said.
"There are 8 people on each team. They start on each end of the court, and they run toward the balls. They grab the balls and throw them. If it hits the body, then you are out. If you catch it, it is an out for whoever threw it. If it hits you in the head, it does not count [as an out]," McCormick said.
Chu said that the dodgeball tournament has changed over the years. "We used to have teachers vs. students dodgeball in the gym. Last year, it was less organized, as we had a dodgeball day in the gym. This year, we decided to make it a bit more of a formal and organized competition," she said.
"I think that it has been really great. There were definitely people in the gym watching. I think we have 10 or 11 teams, and they are very spirited. They have their uniforms all coordinated. They are very competitive and into it [the tournament]," Chu said.
Sophomore Matthew Ringquist, who was on the 2nd place team, had a unique strategy. "For me, I just tried to catch everything, because I am not that good at throwing. Most people avoid the ball at all cost, because most people are good at throwing. It just depends where your skills are," he said.
Ringquist said that he enjoyed the tournament. "They [Leadership] did a very good job. It was a great activity, and really fun," he said.
According to Petrocco, similar events are planned. "This year, we have other events. Next month, we will have a 3 on 3 March Madness basketball tournament, and in April, we will have a ping-pong tournament," he said.