Berkeley Rep Promotes New Play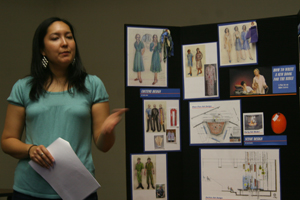 In a lecture at the Moraga library, Emika Abe, School Administrator for the Berkeley Rep School  discussed Berkeley Rep's newest play,  "How to Write a book for the Bible". The play features Aaron Blakely, Linda Gehringer, Leo Marks, and Tyler Pierce playing 4 characters: Paul, Mary, Pete, and Bill respectively.
Written by Bill Cain and directed by Kent Nicholson, the play deals with serious issues such as death and cancer, but with humorous undertones. Cain believes that "My plays are funny, sometimes darkly funny, but they move towards the light." Cain sees the Bible as a book of family stories, rather than a set of rules. Cain's dark humor also was shown in his past plays, such as Equivocation and 9 Circles.
Abe, who promoted the play on October 26th to local residents hoped to spread the word and increase its popularity. Abe explained many aspects of the play, among which its dark humor and its minimalistic qualities. "How to write a book for the Bible" only features 4 characters, and uses minimal amounts of props. "You don't need all the realism, all the set props to tell a story" explains Abe. The play will be presented on a thrust stage, which as its name suggests, thrusts into the audience and is surrounded on three sides by seats. A thrust stage allows for closer intimacy between the audience and the characters, and was used by Shakespeare in many of his plays.
The play revolves around a man who comes to move in with his frail mother, who is too sick to care for herself. Their new relationship heals old wounds and opens up a new poignant and humorous chapter in their lives.
Celebrating its 10th anniversary, Berkeley Rep does 7 plays a year between all age groups, hoping to set a national standard for ambitious programming, engagement with its audiences and leadership within the community in which it resides.