Roberts Takes Lead: Pupil Returns as Master, Revives "Guys and Dolls"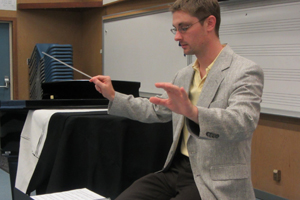 New choir director Mark Roberts has returned to Campo to direct the musical he starred in 10 years ago.
Performed more times than any other production in Campo history, this romantic comedy about gamblers and businessmen and their love interests is set in New York City.
"Guys and Dolls is the quintessential musical theatre; it's the pinnacle, one of the most famous and well-known comedies," said Roberts. "I played one of the main characters when I was at Campo, Nathan Detroit. This production is important to me because there's a lot of symmetry." Roberts graduated ten years ago, starring in the 2002 production of Guys and Dolls.
Stage director Pinkham also has a special connection to this musical. He played as Nicely-Nicely Johnson, one of the main characters in the 1972 Miramonte musical, and acted as the set designer and technical director for the 2002 Campolindo production.
Senior Matt Patera is looking forward to the musical, performing  Pinkham's former role. "There are a lot of good performers for roles and a lot of talented singers," said Patera. "Roberts is doing a great job of managing the program and keeping the energy focused toward our goal."
Junior Caroline Bell, playing Agatha, is also excited. According to her, Guys and Dolls is considered the "perfect musical comedy" and she's especially looking forward to it because "in the past we've done some sad musicals, but this is a happy one, which is a nice change."
For auditions, students sang 16 bars of a Broadway Musical solo. Once cast lists are set, rehearsals will begin in January with performances in March.