Odd Jobs: Student Worker Spotlights
A large number of Campolindo students have joined the workforce as cashiers, interns or lifeguards. However, there are a few Cougars who have found employment in more uncommon places. Teen workers going beyond the stereotypical high school job deserve the chance to share about their unique line of work.
A prime example of an Odd Job worker is sophomore Tower Carranza. Carranza not only works as a part of the Youth Crew in animal care at the Marine Mammal Center, but also as an educational volunteer at the Chabot Space and Science Center and at the Oakland Zoo.
At the Marine Mammal Center, Carranza said, "I help the veterinarians and animal care staff prepare food and clean and transport the animals." Carranza works with "mostly with the seals. They're scary… but they're like puppies. So sometimes they'll do stuff, not because they're supposed to, but just because you feed them."
While at the Chabot Space and Science Center, "[Carranza] conduct[s] demos and science experiments for children to participate in and watch… It's fun. [The children] always get really happy."
Carranza added, "[At the Oakland Zoo, I] also [educate] children. This time, I have a bunch of games and activities; they learn facts about animals and their bone structure and their habits… [One of my favorite activities is] with alligators and crocodiles, where you have a giant skull for both of them, and [the kids] get to touch them and learn to identify them by their bones."
"Getting to work with a lot of really cool people from a lot of different fields like zoology and [people who have] PhDs in science fields [is the best aspect of my jobs]," Carranza added.
While none of these jobs pay yet, they provide Carranza with valuable work experience in a field they enjoy. "I like animals and want to play my part in animal conservation. I also love educating and [working with the kids]."
Like many high school students, Carranza is thinking about how these jobs will help them in the future. "College wise, I want to go into pre-med or biotech…I also really want to volunteer as an adult at a zoo or animal hospital," they added.
Out of all three jobs, Carranza's "…favorite is probably at Chabot Space and Science Center. It's the most interactive and I get the most immediate reaction from people… I like child education… they're typically the most genuinely interested [audience], and their expressions when you teach them stuff is pretty cool."
Carranza's interest in child education stems from their own childhood. Carranza said, "When I was younger, I would look up to people who do the same thing I do for [kids now]. Probably my favorite part of museums was when I'd have someone who made the experience interactive."
Because all three jobs are located in different areas, unfortunately Carranza has no weekends free anymore. Carranza said, "Every other Saturday I'm at Chabot, the Saturdays I'm not at Chabot, I'm at the zoo, and every Sunday I'm at the Marine Mammal Center…and sometimes during the week."
"Last weekend [Carranza] volunteered at Chabot for 12 hours," Carranza's friend sophomore Calder Aziz-Mahoney said. "I think that [Carranza is] doing way too much, but I think it's cool they're passionate about it."
Leave a Comment
Your donation will support the student journalists of Campolindo High School's The Claw. Your contribution will allow us to produce more issues and cover our annual website hosting costs.
About the Contributor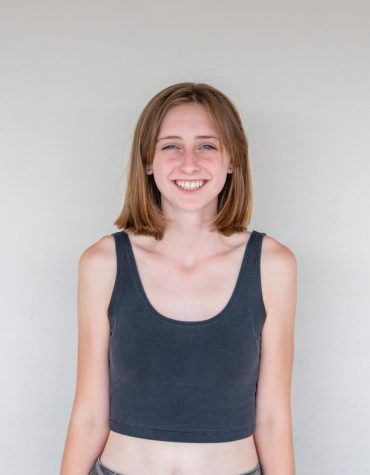 Maggie Doolittle (she/her), Editor-in-Chief
Senior Maggie Doolittle has been a Girl Scout since kindergarten, racking up a total of 11 years in her troop. "I have continued [Girl Scouts] because...