Cougar Chats: Q&A with Cinderella Cast Leads
Many students and parents have seen Campo's sold-out spring musical: Cinderella. With so many student stars, The Claw presents a feature on the production's 4 leading cast members.
The Cinderellas
Senior Ruby Vanhouten and junior Stef Moore are this year's leading ladies, playing Cinderella, or Ella, as she prefers to be called. Vanhouten plays Cinderella in the Poppycock cast, with Moore starring in the Twaddle cast.
Vanhouten said, "I've been looking forward to this for the past 2 years ever since Titanic ended and I just absolutely love doing all this. Just making art with all my friends is really, really beautiful."
Moore said, "I did the musical this year because I love to perform and I've done several shows in the past, so doing the musical was a no brainer for me. Also, not having a show last year because of COVID made this year's show that much more special."
As the only junior amongst the other 3 main leads in the musical, Moore commented, "I don't feel the distinction between our grades if I'm going to be honest. We are all pretty close and super supportive of 1 another, so I've never felt singled out as the only junior. Also, although I am honored to be the only junior out of the Cinderellas and princes, I don't think it's very noteworthy because there are also way more juniors who are principal roles as well. It will definitely make for a great musical next year."
"These past few months of rehearsals have been some of the happiest times of my life…. It's just the people that play the role is really bring the whole story to life and it's been really cool to reconnect with old friends after distance learning last year and meet a lot of new people," Vanhouten added.
The Prince Tophers
Cinderella's love interest, and the other lead of the musical, is Prince Topher. Senior Finn Jordan will star as Topher in the Poppycock cast and senior Lleyton Allen plays the prince in the Twaddle cast.
Jordan said, "I have been participating in musicals, acting and singing in general ever since 4th grade. And at 1st, I wasn't fully sure about it. It's something my mom made me do. But right after that 1st time I did in 4th grade, it's something I fell in love with. And over the years, I've just got to love it more and more and all the people involved with it."
Jordan said, "I'm just looking forward to finally being in a musical that's unmasked, because I've done a few when I'm not, and it's just nowhere near the same. And I'm excited to experience this. I mean, it's sad, but for the last time just with all of my friends, being with them, that's all I could ask for."
"It's just such a wonderful community. And so after this 2 year hiatus, in a way of just not having anything to do, and after Titanic, [it was] a depressing time…I knew that doing the musical Cinderella, I was super excited for it. And I was just excited to be with all my friends once again. So that's why I did it. And it's something I love and I'm continuing [it] in college," Jordan added.
Allen will also be studying the performing arts in college. "It['s] my life to do musicals. So when I saw we're doing Cinderella, I was like, 'Oh my gosh, I'm obviously doing this,'….[I wanted to] come in and do [my] senior [performance]. Make it good for the freshmen and sophomores. Let them know what a musical is with leadership [from] seniors and people that have done it for a while and that can show them the pace of how things work. So when I saw there were signups I had to hop on it," he said.
Allen added, "It's just really cool having that tight knit, close family group all together, and this is definitely 1 of the tightest casts I've ever been in, including the tech, including the people that work on the lights, on the sound, the costumes, just everyone is so close, and it really makes the musical a better experience."
Allen invites everyone to "come see the musical!" There will be video of the musical available to purchase that will be sold on the Campo Choir website, www.campochoir.com.
Leave a Comment
Your donation will support the student journalists of Campolindo High School's The Claw. Your contribution will allow us to produce more issues and cover our annual website hosting costs.
About the Writer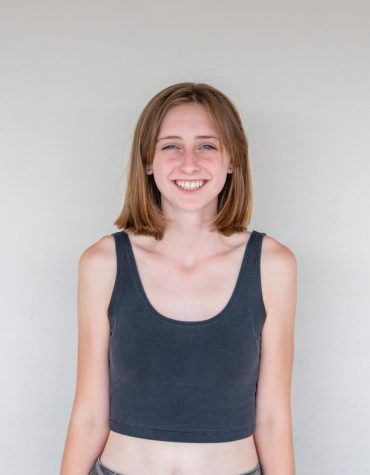 Maggie Doolittle (she/her), Editor-in-Chief
Senior Maggie Doolittle has been a Girl Scout since kindergarten, racking up a total of 11 years in her troop. "I have continued [Girl Scouts] because...