Fall Dessert Favorites Feature Seasonal Flavors
As pumpkin spice, cinnamon, and nutmeg have begun to fill the grocery store aisles, many students are beginning to bake fall desserts. Due to the pandemic, last year saw a dramatic increase in students baking and experimenting with creating new treats. Shows such as "The Great British Baking Show" and "Sugar Rush" on Netflix, along with TikTok, helped boost the baking craze. Seasonal baking not only helps to extend the autumn feeling, but also provides a relaxing break from academic work.
Following the usual fall flavors, junior Maddy Mcghee said, "I love anything pumpkin. I especially like pumpkin bread, pumpkin muffins, and chocolate chips… I love to make pumpkin chocolate chip cookies. It's dark chocolate chips and it's just pretty simple."
On a similar flavor profile, freshman Maggie Mandell has her own taste: "My favorite fall dessert is pumpkin chocolate chip muffins…from Trader Joe's."
Others have a taste for the classics. Freshman Thea Stratford said, "My favorite dessert is probably apple pie and ice cream."
Stratford added that a dessert she likes to make is oatmeal raisin cookies. "I like making them, they're really fun."
Arguably, baking is more fun when done with loved ones. Mcghee, for example, enjoys baking with her mom, and added, "We [bake] together on the weekends."
Stratford said, "I make desserts with whoever's available. If it's [with] my friends, that's great. But a lot of times it's [with] my sister."
Mandell said her 'fall favorite' recipe was discovered by her mom. "My grandma also makes really good pumpkin desserts." She added, "I like to make this dessert with my brothers."
Another favorite among friends and family would have to be Martha Stewart's Pumpkin Chocolate Chip Bars. This recipe is always popular during the fall months:
Martha Stewart's Pumpkin Chocolate Chip Bars Recipe
Ingredients:
2 cups all-purpose flour, (spooned and leveled)
1 tablespoon pumpkin-pie spice
1 teaspoon baking soda
3/4 teaspoon salt
1 cup (2 sticks) unsalted butter, room temperature
1 1/4 cups sugar
1 large egg
2 teaspoons vanilla extract
1 cup canned pumpkin puree
1 package (12 ounces) semisweet chocolate chips
Step 1:
Preheat oven to 350 degrees. Line bottom and sides of a 9-by-13-inch baking pan with foil, leaving an overhang on all sides. In a medium bowl, whisk together flour, pie spice, baking soda, and salt; set aside.
Step 2:With an electric mixer, cream butter and sugar on medium-high speed until smooth; beat in egg and vanilla until combined. Beat in pumpkin puree (mixture may appear curdled). Reduce speed to low, and mix in dry ingredients until just combined. Fold in chocolate chips.
Step 3:Spread batter evenly in the prepared pan. Bake until edges begin to pull away from the sides of the pan and a toothpick inserted in the center comes out with just a few moist crumbs attached, 35 to 40 minutes. Cool completely in the pan.
Step 4:Cut into squares and ENJOY!
Leave a Comment
Your donation will support the student journalists of Campolindo High School's The Claw. Your contribution will allow us to produce more issues and cover our annual website hosting costs.
About the Contributors
Claire Birdsey (she/her), Staff Writer
When she was 4 years old, Claire Birdsey was enrolled in her first dance class and has been hooked ever since. Dancing at CAPA in Moraga since 2017, she...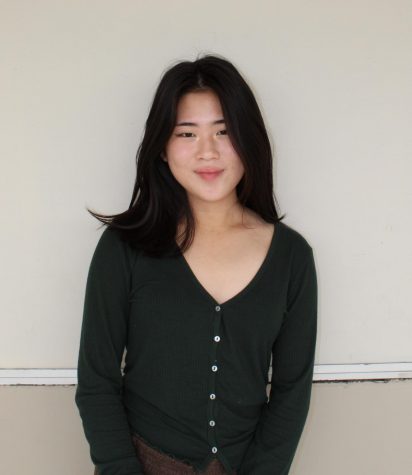 Haelee Chung (she/her), Staff Illustrator
Senior Haelee Chung (she/her) is a new member of the art staff at the Claw. Haelee's been painting and drawing all her life, and loves to express her...