7 Spookily Sweet Treats for Halloween
Halloween is here, and although trick-or-treating has been canceled due to COVID-19, here are some spooky fall treats to make your Halloween a sweet one!
Oreo and Kisses Witch Hats
Ingredients: Oreo cookies, Hershey's kisses, icing, Starburst candies
Directions:
Separate your oreos and remove filling to form the base of your hat.
Use icing to glue the bottom of a Kiss to the cookie.
Take a Starburst and cut into the right size for a tiny buckle.
Add some extra icing around the base of your Kiss and place cut Starburst.
Enjoy your mini witch hat!
Dracula Dentures
Ingredients: your go-to chocolate chip cookies, vanilla frosting, red food coloring, almonds (or pumpkin seeds if you have a nut allergy)
Directions:
Prepare chocolate chip cookies according to your recipe, and cut them in half.
Add red food coloring to the frosting and spread it on the bottom of each cookie half.
Line the round edges of 1 of the halves with mini marshmallows, with a few behind the "teeth" for added support.
Place the 2nd half on top.
Cut almonds or pumpkin seeds into slivers and place 1 on each side to complete Dracula's fangs.
Ghost Marshmallows/Bananas
Ingredients: Jumbo marshmallows OR banana for healthier alternative, mini and normal sized chocolate chips
Directions:
This one is very simple! Press mini chocolate chips in to the marshmallow/banana slice to form eyes and a larger chip to give your ghost a ghoulish scream,
*Bonus! Save ghost marshmallows for an upcoming recipe…
Reese's Cup Bats
Ingredients: Mini Reese's, Oreos, peanut butter, candy eyes or icing
Directions:
Separate Oreos, remove filling cream, and carefully cut each layer in half.
Attach 2 Oreo halves for "wings" to Reese's cup using peanut butter.
Use the same peanut butter method to attach candy eyes, or pipe on eyes with icing (the more eyes, the spookier!).
Halloween Candy Bark
Ingredients: 2 cups of white chocolate chips, food coloring in desired "Halloween" colors (ex. orange, purple, black), add-ons (orange and black M&Ms, Halloween colored sprinkles, pretzels, oreo crumbles etc.)
Directions:
Carefully melt white chocolate chips by microwaving it in 30 second increments; take it out and stir between each increment. Or, put chocolate in a heat-safe bowl and place it over a pan of lightly-simmering water; stir occasionally until melted.
Separate a tablespoon of white chocolate for each color you wish to add into its own bowl.
Pour uncolored chocolate into a baking pan lined with parchment paper, and use a spatula to spread evenly. It should be ⅛-¼ inch thick.
Drizzle colored chocolate on top and use a toothpick to swirl.
Sprinkle on your add-ins and gently use your palm to press in and make sure they're secure.
Set in the fridge until bark is set, about 20 minutes.
Break and serve!
Ghost S'mores Dip
Ingredients: Ghost Peeps OR ghost marshmallows from previous recipe, 2 cups of semi-sweet chocolate chips, ¼ cup heavy cream, graham crackers for dipping
Directions:
Preheat the oven to 450 degrees.
Cover the bottom of the pan with chocolate chips, and pour heavy cream on top.
Cover the chocolate with a layer of ghosts.
Bake for 8-10 minutes, or until ghosts are golden.
Serve warm with graham crackers.
Pumpkin Patch Brownies
Ingredients: 1 box of brownie mix and required additional ingredients (usually requires eggs, water, vegetable oil), green icing, chocolate frosting, crushed Oreos, pumpkin candies
Directions:
Preheat the oven to 350 degrees; prepare a 9×13 pan with parchment paper and cooking spray.
Bake brownies according to package directions (usually 28-30 minutes) then let it cool completely.
Frost brownies with chocolate frosting and sprinkle with crushed Oreos to create "soil."
Use green icing to pipe vines and leaves.
Scatter pumpkin candies on top and enjoy your edible pumpkin patch!
Leave a Comment
Your donation will support the student journalists of Campolindo High School's The Claw. Your contribution will allow us to produce more issues and cover our annual website hosting costs.
About the Contributor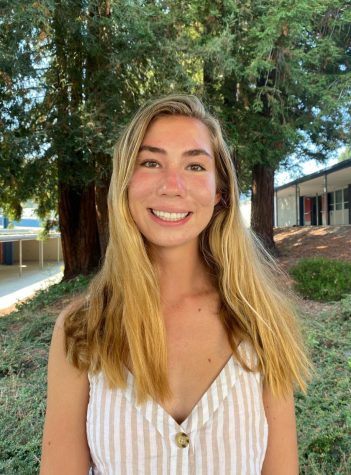 Gracie Woidat, News Editor
Senior Gracie Woidat has a passion for both working and caring for people and animals. She has found her calling by volunteering at the Lawrence Hall of...